It is a common misconception that sunscreen should only be used in the summer months to protect from harmful UV rays. However, the sun can be just as powerful and detrimental in colder months as well.
Skin cancer is one of the most prevalent forms of cancer in the United States and can severely impact your face and head. The sun can cause intense damage that may require treatments like chemical peels or photofacials to reduce sunspots' appearance and discoloration.
With all of the news swirling about harmful additives and ingredients in sunscreens recently, it can be challenging to find the best sunscreen to protect your face. Luckily, there are many resources available to learn more about what goes into your sunscreen before you use it.
First, let's understand the difference between physical and chemical sunscreens. Then, we can break down the ingredients that will work hardest at protecting your skin.
Physical vs. Chemical Sunscreens
Whether using a physical or chemical sunscreen, the Food and Drug Administration (FDA) always recommends using an SPF15 or higher, broad-spectrum sunscreen. Beyond that, the choice is yours and should be dependent on the characteristics of your skin (i.e., oily, dry, red, acne-prone, sensitive, etc.).
Physical Sunscreen
Physical sunscreens, also known as inorganic or mineral sunscreens, are going to be your best bet when looking for safe and protective ingredients. These types of sunscreens contain the only two FDA-approved inorganic ingredients: titanium dioxide and zinc oxide.
While originally scientists believed that physical or inorganic sunscreen would form a protective coating on the skin to reflect and scatter harmful rays, recent studies have proven that these ingredients actually absorb and eliminate up to 95% of UV rays instead.
The downside of physical sunscreens is that they leave behind a white, sticky film on the top of the skin. For people with darker complexions, this can be a deterrent from using the product. Additionally, while marketed as "natural" due to the presence of titanium dioxide and zinc oxide, physical sunscreens still contain other added chemicals.
Chemical Sunscreen
The alternative to physical sunscreens is chemical sunscreens, which contain all other chemical substances besides titanium dioxide and zinc oxide. Unlike physical sunscreen, this type of lotion rubs directly into the skin and does not leave behind any white residue. Chemical sunscreens protect you by converting UV rays into harmless dissipating heat.
Unfortunately, many chemical sunscreens can contain potentially harmful added ingredients, so before you hit the beach, take a peek at the back of your sunscreen labels to make sure you're protecting the skin on your beautiful face as best as possible.
Ingredients to Look For
Physical/Inorganic/Mineral Sunscreens – While they may leave a less than alluring white coating on the skin, physical sunscreens offer the highest UV protection level. These types of sunscreens contain a multitude of ingredients, but specifically are the only available options that include the following elements:
It's crucial that whatever sunscreen you use is non-comedogenic, so it doesn't clog up pores on the face.
If you have acne-prone skin, consider pairing your sunscreen with a face wash containing salicylic acid, which exfoliates, cleans out pores, and protects against future breakouts caused by irritating sunscreens.
Niacinamide – Look for this ingredient if your skin is prone to redness. It's a mixture of Vitamin B3 and lactic acid, which exfoliates, reduces oiliness, and protects sensitive skin.
Hyaluronic acid – This ingredient will ensure that your skin maintains hydration while being exposed to the sun. It is a humectant, which draws moisture up into the skin.
Colloidal oatmeal – If your face is prone to acne breakouts, consider a cream containing colloidal oatmeal. It can reduce inflammation and irritation considerably.
Glycerin – This ingredient is another humectant that will keep your skin hydrated throughout the day.
Dimethicone – This chemical is known to keep pores clean and unclogged while simultaneously hydrating the skin for an added bonus.
Vitamins A, C, and E  – Sunscreens with added vitamins boost antioxidant protection while also leaving the skin looking fresh and dewy.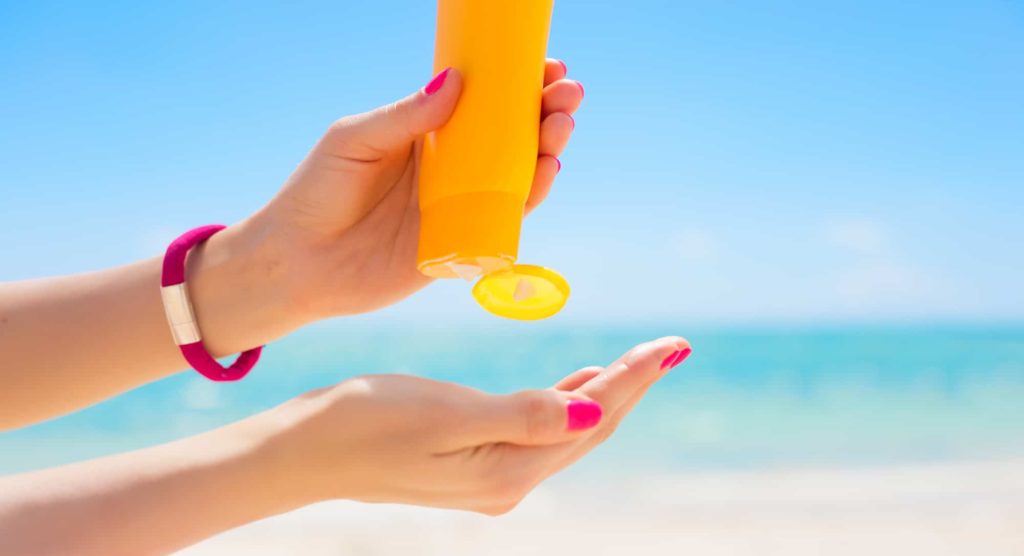 Ingredients to Avoid
Heavy oils like coconut oil can leave you with unsightly and irritating clogged pores.
Oxybenzone – Hawaii has now banned this chemical for its links to coral reef discoloration and harm to marine life. Consider choosing a more environmentally friendly option without this harmful ingredient.
Octinoxate – Hawaii has also banned the use of this chemical in sunscreen products because it is hazardous to marine life as well.
Avoid using aerosol spray bottles of sunscreen, because the nanoparticles of chemicals like titanium dioxide can be carcinogenic to humans when inhaled.
Retinyl palmitate or retinol – Often found in topical acne treatments, avoid any sunscreens that contain retinol. When exposed to sunlight, retinol can cause skin lesions or even cancer. If your skin has been affected by retinol, microdermabrasion facials can help reduce acne scarring or sun damage.
Parabens – Avoid added parabens, as these preservatives are hormone disrupters, linked to breast cancer, reproductive, and developmental health issues.
Fragrances – Always opt for a fragrance-free sunscreen. Added scents can cause irritation, allergic reactions, and reduce the effectiveness of the sunscreen.
Avoid other chemical fillers such as avobenzone, octisalate, octocrylene, and homosalate. They can penetrate through the skin and remain stored in your body for extended periods, potentially impacting your health or the health of your child in the future.
The Bottom Line
Protecting your face and skin from harmful UV rays should be a top priority all year round. You know the qualities of your skin the best. The skin on your face can be dry, red, oily, discolored, dark, acne-prone, sensitive, or anything else in between.
So, while it's important to know what chemical additives in sunscreen are harmful, ultimately, choosing a safe and effective sunscreen that is right for your type of skin is up to preference. Talk with your dermatologist or a skin care specialist to better understand the needs of your skin and face so you can continue to protect yourself all year long.