There are few things more annoying than stepping into the shower, looking down, and realizing – ugh, I have to shave. The process of shaving your legs, underarms, bikini line, and other areas of unsightly body hair can be time-consuming and leave your skin red or irritated with razor bumps.
Even if you prefer to keep your body completely hair-free, shaving is incredibly tedious. Luckily, laser hair removal procedures have become affordable, accessible, and exceptionally easy.
For people who choose to regularly shave their body hair, laser hair removal may seem like a miracle. It's important to note that while the process is trendy, it isn't the perfect solution for every skin and hair type. Before you decide to begin laser hair removal treatment, educate yourself about the procedure, and consult with a professional to ensure that your skin and hair types are appropriate.
What Is Laser Hair Removal?
For many people, body hair is an embarrassing feature that impacts levels of confidence. Laser hair removal is a fantastic treatment for the right person, but it's crucial to understand how it works before seeking a clinic.
How It Works
Laser hair removal is a process that works best when body hair is entirely shaven. Each session's time will vary depending on the area being lasered, with face and the underarm regions taking just a few minutes and legs or back areas taking at least 25 minutes. Remember, one laser hair removal session is not enough, and it will require approximately 3-8 sessions for sufficiently permanent hair loss. Here's how it works:
Highly concentrated, pulsing light is emitted from a laser into the hair follicles.
The pigment in the hair follicles absorbs the light and destroys the hair.
After multiple sessions, permanent hair loss will be at about 80-95%, requiring minimal shaving going forward.
While the process of laser hair removal is the same for all patients, there are different body areas, skin, and hair types that require specific attention. Some of the most common areas for laser hair removal are:
Underarms
Upper lip
Bikini line
Lower legs
Chin
Back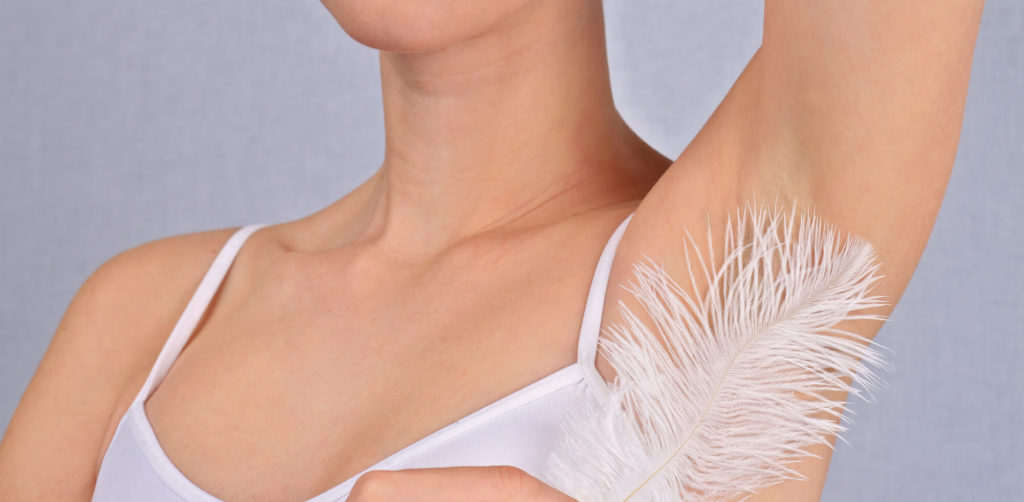 Is Laser Hair Removal Right for You?
The idea of never having to shave again can seem incredibly appealing to people of all ages, skin types, hair colors, and textures. However, the process is less effective on particular skin and hair types than others, so it's vital to consult a doctor or dermatological specialist before embarking on the procedure to ensure that it is right for you.
Cost
Before even considering a consultation with a clinician,  think about the cost of the laser hair removal procedure. Laser hair removal takes multiple sessions before results show, and the costs of these sessions can add up over time.
Compare your yearly spending on razors, shaving gels, and lotions to the cost of laser hair removal treatment to see if the expense is worth it. The process used to be much more expensive, but has become increasingly affordable and accessible in recent years.
Hair Color
One myth about laser hair removal is that it only works on dark hair and fair skin. While this was true many years ago, modern innovations in laser hair removal technology have made it an effective treatment for different hair and skin colors.
Patients with darker hair may have more success with the treatment than others, but it is effective on brown and darker-toned blonde hair colors. However, removal is not recommended for clients with light blonde, red, or white hair, as the hair will have a difficult time taking to the process.
Hair Texture
Laser hair removal techniques work on a wide variety of hair textures but are most successful on coarse hair types. Coarse hair follicles absorb the light emissions faster, meaning fewer sessions will be necessary to achieve the desired result.
Skin Color
Another myth about the laser hair removal process is that it only works on fair skin. While the treatment may take to fairer skin quicker, it is still possible to see results on darker complexions. Clinicians recommend avoiding tanning, especially fake tanning, before any laser hair removal sessions. Winter is a popular time to receive treatment because skin pigmentation is lightest then.
Skin Sensitivity
One major factor to consider before undergoing laser hair removal treatment is the sensitivity of your skin. While not painful, the process can be uncomfortable, especially when your skin is sensitive and prone to irritation.
People with high pain tolerances will probably have little to no issues during the removal experience; People who are sensitive to pain may feel intense discomfort in the first few sessions as the follicle is targeted. The discomfort should fade as less and less hair grows in the affected area.
Additionally, older clients with sensitive skin may not see the benefits of the treatment, especially if the hair is white or gray. While there is no cut-off age to receive the treatment, laser hair removal is only recommended for people above the age of 18 without white or gray hair.
Gender
The final myth about laser hair removal treatments is that they're only for women. While it is a popular process in the female population, men can also benefit from laser hair removal. Pesky hairs from men's backs and other problem areas are easily removed through the laser process.
Everyone Is Different
While laser hair removal seems incredibly appealing to people all hair types, ages, and genders, it is not the perfect solution for everyone. You know your body and its sensitivities the best, so ensure that you understand how it may affect your skin before you continue pursuing treatment.
Additionally, consult a doctor, especially if you have a darker complexion, to guarantee that the treatment will be effective. Finally, don't DIY it; while at-home laser hair removal treatments may sound like a fantastic, convenient technique, they can be extremely dangerous if not implemented properly. Consult a professional laser hair removal specialist to get the best results for your body so you can stay confident in your skin all summer long.