Skincare procedures that improve your appearance or reduce problem areas are becoming popular worldwide. It's important to feel confident in your skin, and men and women are turning to chemical peels and microdermabrasion to achieve younger-looking skin. While these procedures can be intimidating initially, both are minimally invasive treatments that bring you results and many benefits almost instantaneously.
Chemical Peel
This skin-resurfacing treatment is used to improve the appearance of the skin on your face, neck, and hands. A chemical peel can be utilized to treat many different skin issues, and each level of peel focuses on specific depths of your skin depending on the type of acid applied.
Light Chemical Peel: A superficial chemical peel removes the outer layer of the skin or epidermis with alpha-hydroxy acid or another mild candidate. This procedure can be used to treat fine wrinkles, uneven skin tone, acne, and dryness.
Medium Chemical Peel: In addition to removing skin cells from the epidermis, this procedure also removes portions from the upper part of your dermis with glycolic or trichloroacetic acid. Along with the items treated with a light chemical peel, it also treats acne scars.
Deep Chemical Peel: A doctor may recommend this procedure for you if you're looking to treat deeper wrinkles, scars, or precancerous growths. Additionally, you will still see improvements in the areas that light and medium peels focus on. This procedure removes skin cells from the epidermis and portions from the middle to the lower layer of your dermis with trichloroacetic or phenol acid.
Individuals that complete a chemical peel will notice their new, regenerated skin has a smooth, less wrinkled appearance and may have increased sensitivity to the sun. Before scheduling a chemical peel, it's encouraged to schedule a consultation with your dermatologic surgeon, as it's vital to make sure you're a valid candidate to avoid any complications.
What to Expect
Depending on the level of chemical peel you choose, the procedure typically lasts anywhere from 30 to 90 minutes. For light and medium chemical peels, the doctor applies the chemical solution with a cotton applicator or gauze, and your treated skin will begin to whiten. After a few minutes, your doctor will use a neutralizing solution, if required or apply a cold compress to soothe the skin. For a deep chemical peel, you will be given an IV, and the chemical solution will be applied with a cotton applicator. Your skin will begin to turn white or gray, and due to the intensity of this procedure, your doctor will likely complete it in intervals to limit your skin's exposure to phenol acid.
After your light or medium chemical peel treatment, you can expect your skin to be red and swollen. Your doctor will likely provide you with petroleum jelly to provide relief for the area. You can utilize ice packs and over-the-counter pain relievers to reduce any additional pain. The skin will be healed anywhere from 1 to 14 days, depending on the level of treatment. After your deep chemical peel treatment, you will likely experience severe redness and swelling. Your doctor will dress your skin with a watertight dressing and likely prescribe you painkillers. The skin will be healed in about two weeks, depending on how successfully your skin rejuvenates.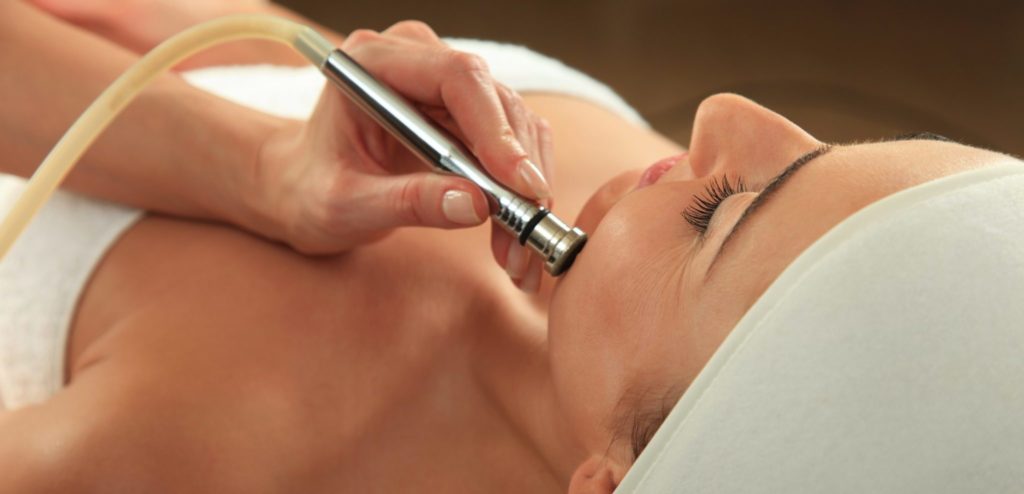 Microdermabrasion
This is a minimally invasive skincare procedure that is utilized to renew your skin tone and texture primarily on your face and neck but can be performed on any area of skin. While results are not permanent, you will notice a smoother, brighter complexion shortly after treatment. Your skincare specialist will gently exfoliate the surface of your skin with a wand removing the top layer or epidermis of your skin.
Diamond-Tip Handpiece: This wand gently exfoliates the dead cells in your skin and suctions them off instantaneously. Specialists can control the abrasion depth depending on how much pressure is used and the length of time spent on an area. If focusing on a more sensitive facial area, like around the eyes, this is the best applicator.
Crystal Microdermabrasion: A specialist will use a crystal-emitting handpiece that gently sprays fine crystals to rub away outer layers of the epidermis. Similar to the diamond-tip handpiece, the dead skin cells are suctioned off automatically.
Hydradermabrasion: Also known as a "hydrafacial," this procedure combines the dermal infusion of a hydrating antioxidant moisturizer as well as exfoliating the outer layers of the epidermis and removing dead skin cells. This procedure helps stimulate collagen production and drastically increases blood flow to your skin.
Microdermabrasion is a safe procedure for most skin types and colors. From minimizing the effects of aging and hyperpigmentation to stretch marks and enlarged pores, this procedure requires little to no recovery time, and you'll notice results immediately after the treatment.
What to Expect
During your treatment, you will be seated in a chair while your doctor utilizes one of the above devices to exfoliate the outer layers of your skin and remove any dead skin cells. After your treatment, a moisturizer and sunscreen will be applied to rehydrate the skin and jumpstart the healing process. Unlike a chemical peel, there is hardly any downtime with microdermabrasion, so you can expect to resume your normal day-to-day activities almost immediately.
You may experience minimal redness, swelling, and tenderness, but it won't last for long. It's essential to keep your skin adequately hydrated and cleansed to allow for proper healing and reduce the chance for infection. Since portions of the outer layer of your skin are removed during this treatment, you will notice a sensitivity to sunlight for a few weeks following treatment. Your doctor may recommend you come back for multiple treatments depending on how successful the initial procedure is.
Schedule Your Appointment Today
It is essential to schedule a consultation with your skincare provider before moving forward with either of these treatments to make sure you're a valid candidate. Each of these minimally invasive skin care treatments provides individuals with healthier, younger skin that can be noticed upon completion of your procedure. If you're looking for a way to address problem areas on your skin and be confident again, these are both wonderful options to feel beautiful in your skin again.