Though the Platelet Rich Plasma (PRP) facial gained widespread popularity (like so many things have) by the power of association with Kim Kardashian after a 2014 episode of Kim and Kourtney Take Miami, PRP facials actually hit the market back in 2009. Nonetheless, they have grown increasingly popular over the years, and the trend has been featured everywhere from Buzzfeed to Nylon to Allure.
You may have seen PRP facial before and after pictures on social media – stars like Israeli model Bar Refaeli have shared photos of their faces mid-PRP facial, covered in a thin layer of blood. The facial might look scary in process, but its effects are anything but.
What Is a Platelet Rich Plasma Facial?
If you want the full lowdown on what a PRP facial is and how it's different from regular microneedling, check out our previous post on PRP facials. The short version is that a PRP facial is a microneedling treatment followed by the application of platelet-rich plasma (PRP), which is extracted from your own blood using a centrifuge. The PRP contains high levels of growth factors, platelets, and active proteins, which stimulate cell turnover and collagen production. Microneedling before PRP application creates pathways that allow the PRP to better penetrate the skin.
This combination of microneedling with PRP application makes the facial an ideal treatment for a variety of skin conditions, including:
– Acne scarring
– Pigmentation issues
– Wrinkles
– Crow's feet
– Dark under-eye circles
– Facial redness and rosacea
– Age spots and sun spots
By now you're probably curious about the process of getting a facial, right? You might be wondering whether PRP facials hurt, how long the procedure lasts, and what the facial before and after looks like. Read on to find out!
Platelet Rich Plasma Facial Before
First thing's first: when you arrive for your facial appointment, one of the first things your clinician will do is to draw your blood. The blood for the PRP application is drawn from your arm, then run through a centrifuge to extract the PRP. The clinician will do this step first so that the centrifuge can be running while they start the microneedling portion of your facial.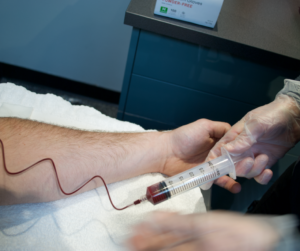 During the Platelet Rich Plasma Facial
Next up is microneedling. For those unfamiliar, microneedling involves using tiny needles to make hundreds of microscopic punctures into the surface of your skin. This stimulates your body's natural healing process, promoting cell turnover and collagen production. Most importantly, it prepares your skin for maximum penetration by the PRP later in the facial.
Worried that microneedling will hurt? Don't be. Many patients find the procedure to be relatively painless after the startle from the initial prick. If you find it too uncomfortable, you can also ask for a numbing cream to be applied prior to treatment, which will help alleviate any discomfort.
After the microneedling, the clinician will retrieve your PRP and apply it to your face. That's it! From beginning to end, a PRP facial will last around 30 minutes, or up to an hour if you decide to opt for the numbing cream.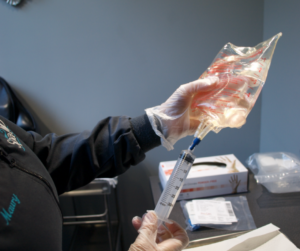 Platelet Rich Plasma Facial After
What should you expect after your PRP facial? It takes a couple days for your skin to recover from the facial. Right after the facial, your skin will be fairly red, almost like you got a sunburn. That redness should fade by the next day. You may also experience some puffiness, dryness, flakiness, rough texture, or even some slight bruising. Don't let it worry you – that's all normal.
How you take care of your skin after a PRP facial is very important. You'll want to limit sun exposure, avoid things like makeup and skin acids that could irritate your skin by penetrating the pathways opened by the microneedling, and keep your skin hydrated with a solid moisturizer. It's best to wait about a week to resume your normal skincare routine after the facial. But your patience will pay off – by a week later, your face will be glowing with the full benefits of your PRP facial!
Platelet Rich Plasma Facial MN
Interested in trying a PRP facial for yourself? Schedule a free facial consultation with one of our expert technicians to discuss your needs. During the consultation, your technician will answer any lingering questions you may have about the process of getting a PRP facial and what you can expect afterward.