Exfoliation is great for the skin, especially on our faces. It leaves skin looking brighter, prevents breakouts by unclogging pores, and increases skincare products' efficacy by boosting absorption. Cultivating a long-term exfoliation routine will increase collagen production, which creates glowing, youthful skin and fights off sagging and wrinkles.
Microdermabrasion and dermaplaning are two different skin exfoliating processes. While both offer the benefits of exfoliation, they each have their own additional benefits and are better suited for particular people. Exfoliation is important, but which procedure is right for you? Let's compare microdermabrasion and dermaplaning and explore their advantages, so you can determine which is right for you.
What Is Microdermabrasion?
Microderm was first developed in Europe in the 1980s. Since then, it has exploded in popularity, and it is now known as one of the top non-surgical methods to refresh and restore facial skin. There are two options to choose from:
Diamond microdermabrasion: This is the most common choice. Using a vacuum suction wand encrusted in diamonds, a professional aesthetician gently eliminates the top layers of dead and dull skin. The quality and intensity of the treatment depend on the aesthetician's skill because it's up to them to maintain a certain level of pressure to exfoliate the skin effectively.
Crystal microdermabrasion: This treatment is seen as less effective and less dependable because it relies on a machine. A vacuum-like machine is used to shoot crystals at the skin and exfoliate dead skin away. When done right, you may see similar results to the diamond microdermabrasion. If it's done poorly, the benefits will be few, if any.
Microdermabrasion Before and After
If your skin feels drab or lackluster, microdermabrasion can have some truly excellent after-effects, such as:
Smooth skin
Brighter complexion
Collagen production
Softer fine lines and wrinkles
Reduced acne scars
Reduced hyperpigmentation
Smaller pores
Generally, a minimum of five sessions is needed to see the best results. Both treatments are painless but require about a week of recovery time for the skin to heal. Once the skin has healed, you can use makeup. Your face can retain a pinkish color for up to eight weeks, and your normal skin color will slowly return over that time.
Who Is It For?
Microdermabrasion is recommended for those with non-sensitive skin. Although the procedure can be quite valuable, it's hard on sensitive skin. If you have a skin condition that causes redness like rosacea, or simply sensitive skin that reddens easily, microdermabrasion is too aggressive for your skin type. It could even make existing skin problems worse.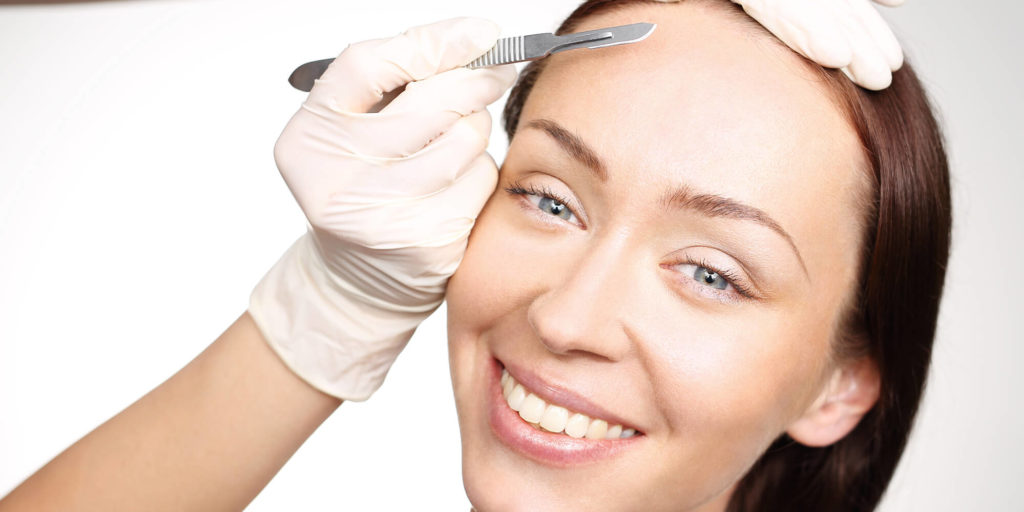 What Is Dermaplaning?
Dermaplaning came about in the U.S. during the 1970s. Its original use was described as a possible remedy for acne vulgaris– a type of acne caused by an excess of dead facial skin, facial bacteria, and facial oils, causing pimples, blackheads, whiteheads, and cysts.
There is only one treatment option for dermaplaning. This form of exfoliation requires an aesthetician to manually scrape built-up dead skin cells off your face with a sharp surgical blade. As dead skin is scraped away, so is vellus hair or "peach fuzz." This is beneficial because these tiny hairs harbor dirt and oil, which cause breakouts and a diminished complexion.
Dermaplaning Before and After
If your skin is looking dull and you have a lot of acne (cystic or otherwise), dermaplaning is a gentle way to exfoliate your skin and reap some amazing benefits, including:
Smoother, more radiant skin
Softer fine lines and wrinkles
Reduced scarring
Removal of vellus hair (it won't grow back darker or thicker)
Dermaplaning can show great results after one session, and there is no recovery time. It's easy, painless, and won't leave your skin red for an extended period of time. In fact, many famous actors, singers, and performers prefer dermaplaning because it requires no recovery time.
Who Is It For?
Dermaplaning is suited for all skin types, even clients whose skin is sensitive or retains redness. It will be most effective on aging, acne-scarred, and dry skin types. If you choose dermaplaning, you can do a few things to prepare for your first appointment.
Dermaplaning vs. Microdermabrasion
Deciding between microdermabrasion and dermaplaning can be difficult, especially if you have a normal skin type that makes you well suited for either. If you have any big events coming up for which you don't want your skin to be red and in the process of healing, dermaplane is probably the better option. If you have sensitive skin, recently got a chemical peel or a more invasive facial treatment, or are pregnant or nursing, dermaplaning is the better option again.
A common client question is, "Can you dermaplane after microdermabrasion?" The answer is no, not until your skin has healed from microdermabrasion. However, aestheticians often recommend dermaplaning combined with microdermabrasion. In this case, because it is less aggressive, dermaplaning must be done first, and microdermabrasion can follow.
Which Is Better?
As you weigh the benefits of each procedure, remember that there is no right choice for everyone. The best option for you depends on your specific skin concerns and needs. Both exfoliating procedures have the potential to benefit your skin immensely, but if you're pregnant, breastfeeding, or have sensitive skin, microdermabrasion isn't for you. If you're currently suffering from an acne outbreak, dermaplaning will have to wait until your breakout subsides. For the ultimate skin exfoliation experience, ask your aesthetician about combining services.
If you aren't sure of your skin type and need assistance deciding which treatment is right, call the skincare professionals at SpaMD today. Our aestheticians are trained to provide top-tier microdermabrasion and dermaplaning services. Visit our website to learn more about our services and schedule your next treatment.