Stretch marks are textured red, purple, or white lines that can appear on your body when the skin stretches or shrinks too quickly. While these marks are a common occurrence for both men and women, not everyone will experience them. Things like hormones and genetics play a large role in stretch mark development and, because they're technically a type of scar, they're tough to get rid of.
There's a lot of misinformation out there about stretch marks, their causes, and ways to treat them. Let's explore the truth about stretch marks and how to clear them.
Stretch Marks: Causes
Are you wondering, "Why do I have stretch marks?" Well, they are created when the collagen and elastin that support the skin break open. This sudden split happens when the body undergoes such rapid changes that the skin can't keep up, causing those supportive elements to rupture. New stretch marks are usually raised and either red or purple. Over time, they'll turn white and sink into your skin, leaving slight dimples.
Stretch marks can appear in a myriad of locations on the body, including:
Stomach and side body
Arms
Shoulders
Hips
Back
Breasts
Bum
Regardless of how you view your stretch marks, they aren't a cause for concern. They won't negatively affect your health or quality of life in a medical sense, but some people report that stretch marks lower their self-esteem. With that said, if you have any questions or concerns about your stretch marks or their causes, talk to your doctor. They can help you pinpoint the cause and create a plan to eliminate them.
Who Gets Them?
Although hormones and genetics are major factors of who gets stretch marks, there are several other potential influences to consider, such as:
Quick and dramatic weight loss or gain.
Puberty and growth spurts.
Pregnancy.
Intense weight training that results in rapid muscle growth.
Excessive steroid use.
Myths & Misconceptions
There are a whole bunch of myths and misconceptions about stretch marks. In fact, there are too many to discuss them all at once. We'll bust three of the most important myths, so you can get the basic facts you need.
Stretch Marks Are 100% Preventable
If you're committed to avoiding stretch marks, that may not be possible. Of course, you can do things like eat healthily and exercise to stay fit and not get pregnant, but some things (like genetics and hormones) are just out of your control.
Your skin's elasticity can be another determinant. By keeping your skin hydrated, healthy, and well cared for, you can promote better elasticity. There are even foods you can keep on hand to keep your skin healthy.
Creams and Lotions Will Take Care of It
Stretch mark creams and other topical treatments can certainly help reduce stretch marks' appearance, but they'll never totally remove them. The best thing to do if you want to clear away stretch marks is to talk to your dermatologist. There are a number of skin therapies that they can recommend.
There's Nothing To Be Done
If you want to minimize your stretch marks, you almost certainly can. The older and deeper your stretch marks are, the more challenging they will be to remove entirely, but minimizing the size or getting rid of discoloration is possible for anyone. Treatments that can help reduce their appearance are:
Microneedling
Microdermabrasion
Laser Skin Resurfacing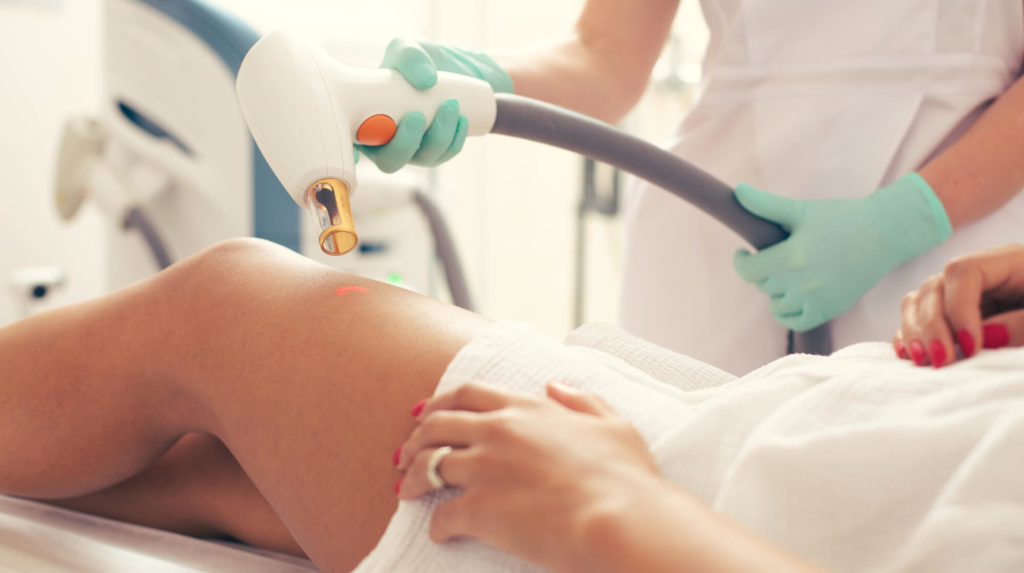 Getting Rid of Stretch Marks
Despite how common stretch marks are, most people who experience them wish to get rid of them. Stretch mark removal treatments range from laser therapy that needs to be administered by a professional to various home remedies you can do on your own. Although the home remedies are unlikely to remove your stretch marks altogether, they can help reduce their overall appearance. Whichever method you choose, it's always a good idea to consult your doctor first.
Chemical Peel
A chemical peel is a skin treatment designed to remove dead and damaged skin cells to make room for new skin regeneration. The procedure involves covering the desired area in an acidic solution that burns off the top layers of skin. In addition to reducing stretch marks, it also reduces age spots, sun damage, freckles, and acne scars.
There are three types of chemical peels for different degrees of skin damage.
Alpha-Hydroxy Acid: This type of peel is for superficial skin damage, which means it will just burn off the top layer of skin.
Glycolic Acid: This is the best option for intermediate skin damage. It will burn the top and middle layers of skin.
Phenol: This treatment is for severe skin damage. It is the most aggressive and deepest-reaching chemical peel in existence.
It is important to note that this treatment does not have the capability to eradicate stretch marks, just reduce their appearance. Not even the phenol chemical peel penetrates the skin that deeply. This treatment also comes with a high price tag. Although the superficial peel can cost as little as $150, a deep peel can cost as much as $6,000.
Laser Therapy
Laser therapy can fix all kinds of things. From hair removal to vision repair and so much more, laser therapy is proven to be effective. Many people wonder, "Does laser stretch mark removal work?" The results vary from person to person. No matter what, you'll need several rounds of therapy (and a couple of recovery days after each one), which may or may not completely remove your stretch marks.
Laser therapy is best for reducing redness and stopping inflammation that causes stretch marks in the first place. If your stretch marks are white or have sunk into your skin, there are higher-tech laser treatments that can help heal your stretch marks. The cost of this therapy varies.
Microdermabrasion
Microdermabrasion is extremely popular; it is the number one non-surgical way to restore skin. Microdermabrasion can be very effective for stretch mark reduction. The treatment doesn't go deep enough to rid your skin of stretch marks entirely, but it does a great job reducing them. It also heals skin because it ramps up collagen and elastin production. You'll need at least five treatments to see results.
There are two types of Microderm treatments to choose from:
Diamond microdermabrasion means an aesthetician uses a diamond-crusted vacuum suction device to remove the top layers of dead skin cells. This is the most effective option.
Crystal microdermabrasion uses a machine to shoot crystals at the skin and exfoliate the dead skin away. This option is less effective, and the results are less dependable.
Home Remedies
If you'd like to learn how to remove stretch marks naturally, this section is for you. Home remedies can reduce your stretch marks and save you a lot of money. The professional treatments can be costly, but home remedies can be found in your local grocery store at very low prices. Recommended home remedies include:
Vitamin A: This vitamin promotes smoother, younger-looking skin. Vitamin A is an ingredient in many creams and lotions you find in the beauty aisle. Whether you use a vitamin serum, take the vitamin orally, or incorporate vitamin A-rich foods into your diet, your skin will thank you.
Exfoliation: Making your own exfoliant is easy, but you can buy it at the store if you prefer. Exfoliating your skin removes dead, dry surface skin and clears the way for fresh, healthy skin to regenerate. It can also promote collagen and elastin production to heal your skin and make it more supple.
Aloe Vera: Aloe vera is known as a natural skin healing wonder. From sunburn to stretch marks, it hydrates, heals, and restores skin. Aloe vera also contains collagen, which is great for stretch mark reduction.
Hyaluronic Acid: This occurs naturally in the body's connective tissue and bonds collagen and elastin, which give your skin wonderful elasticity. Skin that lacks this element is far more susceptible to stretch marks than skin that has proper amounts. You can find supplements that will help you incorporate more hyaluronic acid into your daily life.
Coconut Oil: This oil is a good way to reduce stretch marks, but it's an even better way to prevent them. Coconut has a whole lot of healing vitamins and minerals that your skin needs to create collagen and stay useful and elastic.
Treat Your Stretch Marks Today
No matter who you are, it's essential to care for your body in ways that make you feel good. Are your stretch marks negatively impacting your self-esteem? Whatever caused them, you can minimize their appearance and take your body back. Whether you prefer a chemical peel, laser therapy, microdermabrasion, or home remedies, the choice is yours.
At SpaMD, our expert aestheticians are ready to help you get rid of stretch marks and regain your confidence. Visit our website to learn more about our services and schedule a consultation.