After trying countless over-the-counter and prescription treatments for acne, you may have heard a murmuring about chemical peels. But, do they work?
Yes, chemical peels can help with acne. They contain alpha- and beta-hydroxy acids which loosen the skin's upper layer. The loose skin layers come off easily, leaving smooth, flawless skin behind. Here's a breakdown of chemical peels, how they work, and how this treatment could benefit you.
What Is Acne?
Acne is a skin condition that manifests as whiteheads, papules, blackheads, or pimples. They occur when dead skin cells and oil clog skin pores.
Most people develop acne during puberty. For some, the problem persists into adulthood. You can treat mild acne with over-the-counter acne formulations. Severe acne requires prescription medications.
Some people have persistent flare-ups that need the help of a skin health specialist alongside treatments like chemical peels.
What Is a Chemical Peel?
Chemical peels are a skincare procedure where a dermatologist applies a chemical solution (usually an acid) to remove the upper layers of the skin. A chemical peel treatment targets wrinkles and reduces acne and acne scars.
They are best handled by an experienced dermatologist or skin health specialist, as the chemicals used could irritate or burn your skin. Depending on the targeted skin layer, chemical peels can be light, medium, or deep. Let's explore each below:
Light chemical peels: Removes the epidermis skin layer to treat acne, uneven skin tone, and fine wrinkles.
Medium chemical peels: Removes the epidermis and the top section of the dermis. These peels are ideal for acne scars, uneven skin tone, and fine wrinkles.
Dark chemical peels: Removes deeper layers of the skin to treat scars and precancerous growths.
How Do Chemical Peels Work?
Chemical peels are made from alpha-hydroxy acids (AHA) or beta-hydroxy acids (BHA).
AHA chemical peels work by loosening the top skin layers. Once loosened, the skin layers come off, leaving smooth, clear skin behind.
On the other hand, BHA chemical peels penetrate the skin pores. That clears your skin from the inside out by dissolving the oil, debris, and dirt. These chemical peels also remove acne scars.
Both AHA and BHA chemical peels are customizable to meet the needs of various skin types. Consult a skincare expert if you have darker skin since some chemical peels lead to hyperpigmentation.
Types of Chemical Peels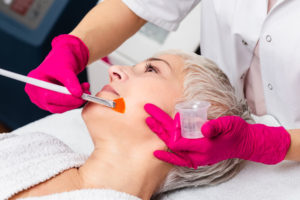 Chemical peels differ depending on the acid they use.
Glycolic Peels
Glycolic peels are made from glycolic acid. These mild chemical peels work on the epidermis skin layer and are suitable for acne, sun damage, and hyperpigmentation.
Salicylic Peels
Salicylic chemical peels are made from salicylic acid, an oil-soluble substance that helps clear congestion from the uppermost skin layers. These peels are great for acne-prone skin, especially when the condition presents as whiteheads and blackheads.
TCA Peels
TCA peels are medical-grade chemical peels made from trichloroacetic acid (TCA). These peels minimize acne scars, sun damage, and fine lines. Since they work deeper into the skin, you must reduce sun exposure to maintain your skin's health after a chemical peel.
Benefits of Chemical Peels
Chemical peels correct various skin issues, from fine wrinkles and lines to acne and acne scars. They are also effective for all skin types, including sensitive skin.
The most noticeable benefit of using chemical peels is skin free of acne. But there are several other advantages for long-term skincare, such as:
Improves Absorption
Chemical peels improve your skin's absorption. That makes it easier for topical anti-acne products to work.
Reduces Sebum Production
Some chemical peels reduce sebum production by reducing pore size. The result could be a lessened risk of acne breakouts.
Slows Down Aging
Slows down aging by removing fine lines and wrinkles. Chemical peels can be a long-term solution, making them a great non-invasive alternative to getting a facelift.
Smooths Out Skin Texture and Tone
Chemical peels can address uneven tones and reduce blemishing. A full treatment can also clear skin discoloration from aging and sun damage.
Reduces Scarring
Unfortunately, acne often leads to scarring. This byproduct of the condition might seem permanent, but chemical peels can significantly reduce the appearance of scars.
What Chemical Peel Is the Best for Acne and Acne Scars?
Generally, chemical peels containing salicylic acid are the best for acne. They penetrate the skin pores and remove accumulated oil, skin cells, and sebum.
People with moderate forms of acne can achieve good results by using superficial (light) to medium-depth chemical peels. Those with more severe forms of acne may require several deep peels to clear the condition.
While chemical peels are effective for all skin types, it's always a good idea to consult with a qualified skincare technician to determine whether the treatment is suitable for your acne. They may propose alternatives if any of the following is relevant:
You are on a certain medication
You have a history of keloids
You are pregnant
You get cold sores frequently
A board-certified dermatologist or licensed skin health specialist can develop an effective treatment plan using this information.
Contact Spa MD for a Chemical Peel Consultation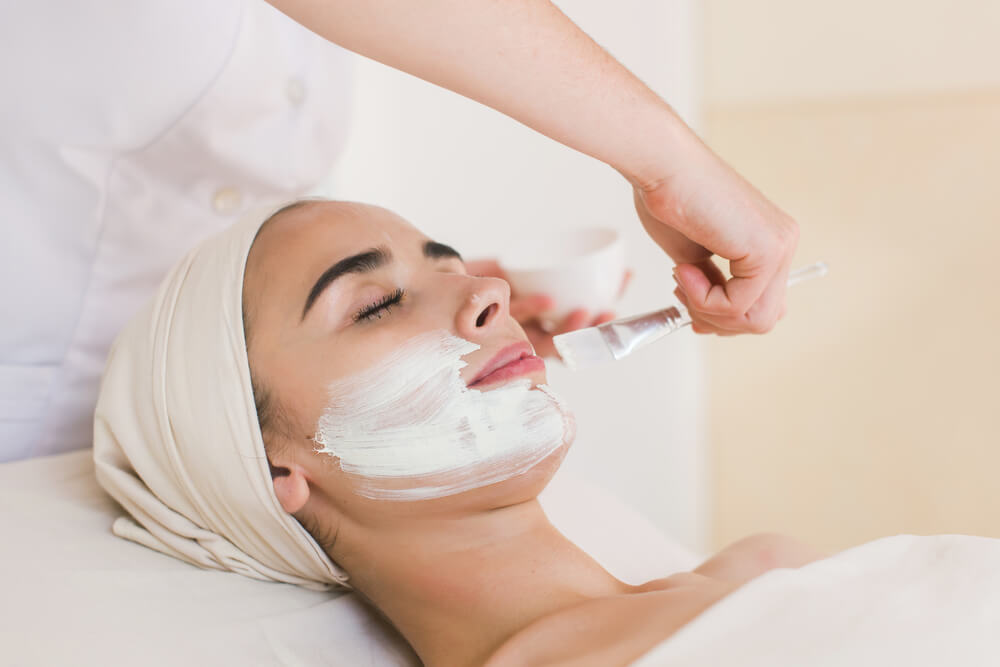 Chemical peels are an effective treatment for acne and acne scars. They remove different layers of your skin, presenting additional benefits to your skin's health, like an even skin tone and clearing pores. But it would be best to have them applied by a certified dermatologist or qualified skin technician to minimize adverse outcomes.
If you're interested in learning more about the benefits of chemical peels, Spa MD has a team of dedicated professionals with vast experience in skincare.
Contact us today to schedule a consultation and begin your acne treatment journey.