Our skin, like our hair, is one of our greatest joys. Beautiful skin, like beautiful hair, empowers us, giving the strength and confidence to face whatever may come. But like everything else, the skin becomes less youthful over time and takes on a dull, drab looking appearance.
If you've noticed that your skin has lost its youthful appearance and wish to turn back the hands of time. A skin rejuvenation treatment like microdermabrasion is precisely what you need to get younger, smoother, brighter-looking skin with reduced acne scars and blackheads.
What Is Microdermabrasion?
Microdermabrasion is a noninvasive, painless, and quick type of revitalization for the facial skin that promotes healthier, younger-looking skin in one session. It was initially introduced in 1985 to provide individuals with a less aggressive alternative to chemical peels and the usual dermabrasion treatments. Fortunately, it's suitable for all skin types.
How Does Microdermabrasion Work to Remove Acne Scars
Microdermabrasion works by using a specialized device to gently buff away the uppermost layer of the facial skin, revealing the fresher, less damaged skin beneath while removing dead skin cells that build up and make the skin look dull. In addition, because it resurfaces the skin as it exfoliates and removes dead skin cells, it removes the damaged skin that acne scars and dark patches from melasma have affected.
The uppermost layer of your facial skin is the thick, uneven skin that is visible. Unfortunately, because of various environmental factors like UV rays, the undeniable aging process, and other unfortunate situations, this skin becomes damaged or dull over time and experiences various issues.
Benefits of Microdermabrasion
No one is willing to pay for anything, whether it's a product or service, unless the benefits make the cost worth it. Luckily for you, professional microdermabrasion has numerous benefits, of which smoother, younger-looking skin is the most notable. Below is a list of the top ten benefits you can expect from a professional microdermabrasion session.
1. Smoother, Younger Looking Skin
Because it treats, reduces, and removes various facial skin issues, the end result is smoother, younger-looking skin that you'll love.
2. More Even Skin Tone and Texture
Since the procedure functions like a skin resurfacer, the process improves the overall texture and tone of the facial skin.
3. Removes Blackheads
The device removes pesky blackheads by removing the dirt particles from the pores.
4. Reduced Pore Size
Since the machine pulls away skin impurities like dead skin cells and dirt from the pores, it allows them to shrink and become less noticeable.
5. Promotes Collagen Production
Because of the exfoliation process, the skin is encouraged to heal itself, and in doing so, it produces more collagen in the process.
6. Improves Circulation
The process increases oxygen and nutrients, improving lymphatic and blood circulation.
7. Removes Age and Sun Spots
Removing the top layer of the skin removes surface-level age and sun spots.
8. Reduced Appearance of Acne Scars
Leaving behind the undamaged lower layers of the skin diminishes the appearance of surface-level acne scars.
9. Reduced Appearance of Fine Lines and Wrinkles
Since it works like a skin resurfacer, it helps to minimize the look of fine lines and wrinkles by smoothing out the skin.
10. Reduced Appearance of Stretch Marks
It can even reduce the appearance of stretch marks. The process causes stretch marks to become thinner and thus less noticeable.
Microdermabrasion: The Process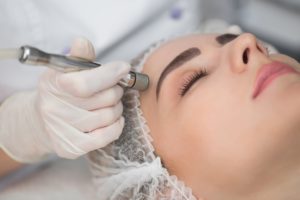 Now that you know what microdermabrasion is, how it works, and its many benefits, let's discuss the overall process. Knowing what you're getting into before participating in anything is essential. So to ensure that you get the best possible experience out of your treatment, read on to learn more about what to expect during and after and what to do before your session.
Before
To ensure the best possible experience during your session, minimize the amount of direct sunlight exposure your skin encounters in the days leading up to your appointment. Also, avoid tanning in a tanning bed, and ensure that you don't get any facial waxing completed 24 hours before your microdermabrasion session.
This same rule goes for any facial procedure that can leave your skin sensitive and result in skin irritation after your treatment. Finally, on the day of your microdermabrasion session, ensure that your skin is clean and oil-free.
During
The overall process will depend on which type of microdermabrasion you receive. There are three types of treatments: diamond tip, crystal stream, and hydra. However, the process is essentially the same.
A certified aesthetician will open your pores with steam and cleanse your skin. Next, a handheld device will be used to resurface your skin one small section at a time. After resurfacing your skin, a soothing skincare product will be applied.
After
Because it's a noninvasive process that uses a minimally abrasive device, it requires no downtime. However, for the health of your skin, avoid direct sunlight for at least 24 hours after your session. In addition, for those with sensitive skin, mild irritation or sensitivity is possible.
Additionally, avoiding anything that might cause further skin irritation, like lotions or moisturizers that have fragrances or alcohol in them, will ensure that the symptoms go away within 24 hours.
Main Takeaways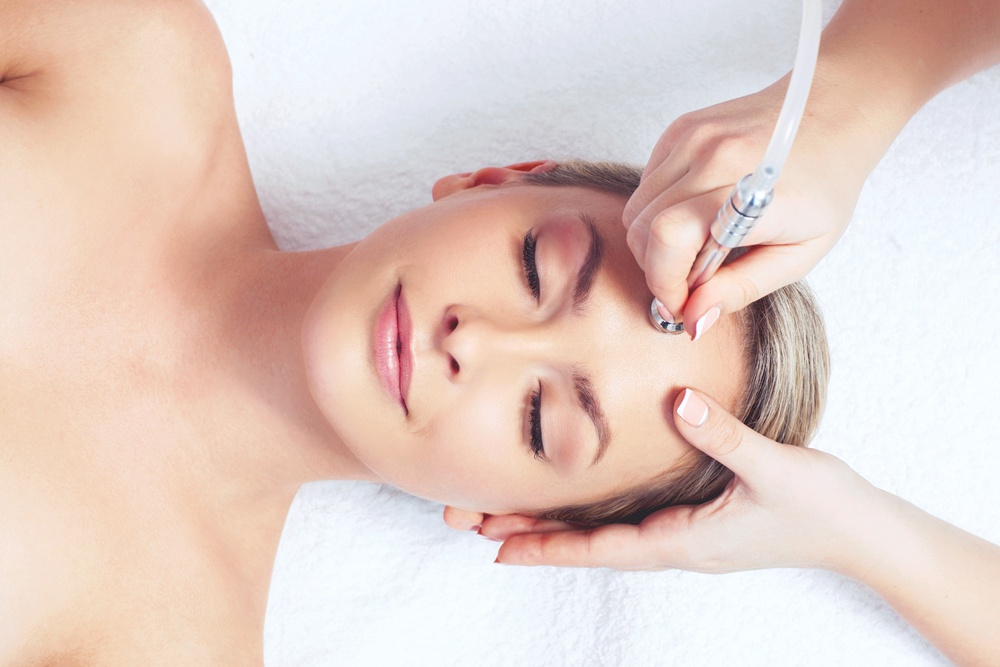 After reading this article, you know everything you need to know about microdermabrasion, from what it is to how it works and even the numerous benefits you can expect from receiving a microdermabrasion treatment. So, if you are ready to have younger, smooth-looking skin, then contact SpaMD today and get the facial skin of your dreams.