What is Laser Hair Removal?
Laser hair removal is a permanent hair loss solution that works by emitting a beam of highly concentrated light waves deep into the skin and hair follicles. The pigment in the skin absorbs the light, which in turn destroys the hair. Laser hair removal is one of the most effective ways to remove hair from any part of the body permanently. It is a safe and easy alternative to shaving, with many benefits that will pay off in the long run.
Benefits of Laser Hair Removal
There are many benefits of laser hair removal. Some are obvious, like saving time and money. Others are beneficial to overall skin health and avoid specific stressors that come with traditional hair removal methods, such as shaving or waxing. Of course, there is a lot to consider when thinking about committing to laser hair removal, but many of the benefits speak for themselves.
Save on time spent shaving.
Reduce ingrown hairs.
Quick procedure with zero downtime.
Save money buying razors and shaving cream.
Provides permanent hair loss.
It can be used on the face and body.
More permanent than alternatives like waxing or threading.
Open to all genders.
How Does it Work?
Laser hair removal works thanks to the use of – you guessed it – a laser! The light from the laser is sent through the pigment (or melanin) in the hair. This light energy converts to heat, which damages the hair follicles that produce hairs. This damage to the follicle delays future growth, therefore providing a permanent hair loss solution. At SpaMD, we use the Gold Standard, the Diode laser. This advanced laser targets specific melanin while leaving the surrounding areas unharmed, resulting in accurate treatment with as little pain as possible.
Is Laser Hair Removal Permanent?
Probably the most common question surrounding laser hair removal is whether or not it is permanent. The answer isn't necessarily straightforward. If the follicle is damaged but not destroyed, hair may grow back. For this reason, multiple appointments are typically needed for initial hair removal. Many people find that their hair grows back lighter and less noticeable than before. Still, it is possible to treat the area again to eliminate all hair.
After multiple sessions, permanent hair loss will be at 80-95%, requiring minimal shaving. Depending on the area of treatment, you may need 3-8 sessions. Some people find that their body is resistant to hair removal, but it all depends on hair color and length. Some hairs are resistant to treatment, and you may have to resort to other hair removal methods. The best way to find out more about your specific hair removal needs is to schedule a consultation with us.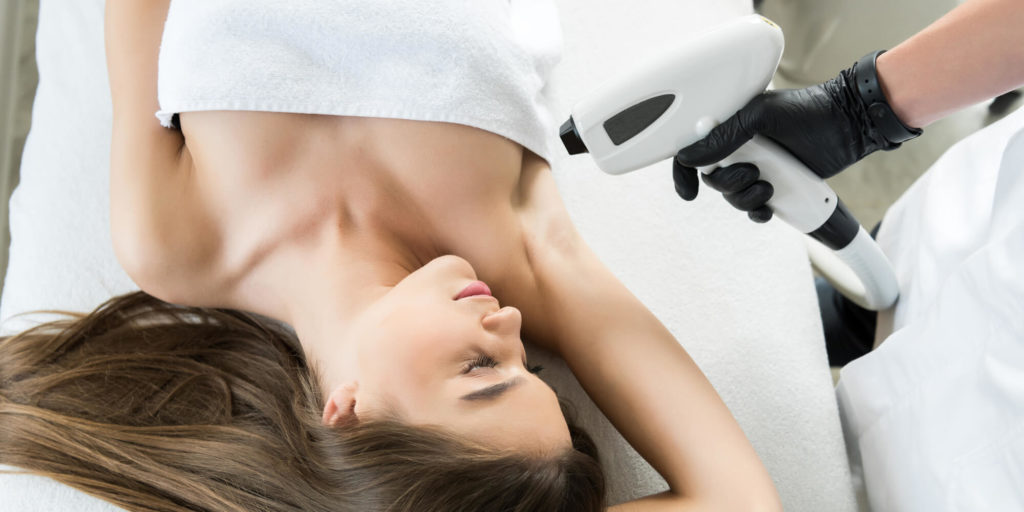 Common Areas for Laser Hair Removal
You might be wondering which areas are best for laser hair removal. The answer is really up to you to decide. Permanently removing hair can save you time and money, not to mention cut down on stress, especially in the summer months. Showing off your hairless body in the summer is totally possible with laser hair removal. These are the most common areas for laser hair removal treatment.
Upper lip
Chin
Underarms
Bikini line
Lower legs
Back
Best Time for Laser Hair Removal
While you might be thinking summer is the best time, because that's when you notice unwanted hair the most, the answer is actually winter. Winter is the best time for laser hair removal because many people skip shaving and let their hair grow longer. This is ideal for treatment because longer hair makes it easier for light from the laser to eradicate hair at its root. Plus, you may experience minimal swelling directly after the procedure, meaning you'll want to give your skin time to recover before showing it off. When you're ready to start your laser hair removal process, plan for winter if you can.
What Are the Side Effects?
There aren't many side effects after laser hair removal, which is another reason why it's an excellent option for hair removal. Your consultant may advise you to take a couple of Ibuprofen before the session. Some people also recommend a numbing cream 20 minutes before the procedure, but check with your consultant. After about ten days, you may want to try using a mild sugar scrub in the shower to get rid of any excess hair and exfoliate your skin.
The most common side effect is skin irritation. Within the first few hours of treatment, you may experience redness and swelling. It shouldn't last more than a few hours after your appointment. Staying out of the sun two weeks before your appointment will help you avoid further irritation, as sunburn can cause blistering and more pain during the treatment. You will also want to skip any self-tanning lotions or methods in the weeks before your appointment. Skin pigment discoloration is also a concern, which is why it's essential to let a professional handle your laser hair removal instead of trying to do it on your own at home. If you don't avoid sun exposure before your appointment, you may be subject to more discoloration. So it's best to avoid the sun and play it safe!
How to Prepare for the Appointment
You've probably realized by now that preparing for your laser hair removal session is essential to get good results. There are several things to be aware of before your appointment to make sure you're ready to get started right when you arrive.
Schedule a consultation with your doctor to make sure laser hair removal is a safe option for you.
Review your medical history and current medications.
Stay out of the sun and avoid self-tanning.
Shaving is recommended the day before treatment but avoid all other hair removal techniques four weeks prior.
Is it Right for You?
If you are considering if laser hair removal is right for you, it's essential to know if it will be successful for your body. The process used in laser hair removal works best on people with light skin and dark hair. However, laser technology advances allow for people of any skin and hair color to be treated with laser hair removal. It is most successful on people with coarse hair, but it works on various hair textures. If your skin is sensitive, you may experience more discomfort  in the area being treated during the first few sessions.
Here are some questions to ask yourself before deciding to do laser hair removal.
What kind of hair type do I have?
Is my skin sensitive?
Am I OK with some temporary discomfort?
Can I afford multiple sessions?
How much do I spend on other hair removal methods each year?
Which areas would benefit from laser hair removal the most?
Am I on any medications that will affect the process?
Making the Decision
Laser hair removal is the safe and easy choice for permanent hair loss. At SpaMD we will take care of you throughout the entire process and ensure you get the best results. Laser hair removal will allow you to live a freer, more comfortable life without having to worry about the time and irritations of traditional hair removal techniques. Make the choice today and schedule a consultation with us.