Scheduling a new skincare treatment or buying that amazing new skincare product suggested to you by your favorite beauty blogger can be extremely exciting for any makeup or skincare lover.
Although skincare routines and treatments are beneficial, they can have some nasty reactions with common prescriptions and over-the-counter medications. Make sure you consult a knowledgeable professional like a doctor or dermatologist before beginning any new skincare treatments or regimens.
What to Expect: Skincare and Medication Interactions
Whether you're taking a new medication or are on an existing prescription, certain reactions between hidden or active ingredients, drugs, and skincare products can range anywhere from slightly irritating to overwhelmingly painful.
When you're putting something on your face's skin, such as a lotion, primer, serum, or other skincare products, it's crucial to understand how the product can react with your current medications in case there is an adverse reaction.
Drug and facial treatment or product interactions with harmful side effects and adverse reactions are known as relative contraindications. Here are some helpful definitions to gain a better understanding of the concept of contraindications:
Contraindications: Prescription or non-prescription medications, procedures, and surgeries that can be harmful to a patient
Relative contraindications: Two drugs or procedures that can have adverse effects when combined or utilized in unison
The internet often tempts many people to check out certain skincare products and how they combine with medications via unreliable online resources like WebMD, and here's where things typically take a turn for the worse. We must encourage you to seek professional advice before using any new skincare products while taking prescription or OTC medications.
High-Risk Medications
Many different types of medications interact with facial treatments and skincare products, potentially in a negative way. If you're on something, even if it's a simple over-the-counter (OTC) medication, you must find accurate information on how the drug can interact with your regular skincare routine.
Some common medications known to have negative reactions with skincare products include:
Acne medications
Antihistamines
Antibiotics
Anti-fungals
Anti-inflammatory drugs
Psychiatric medications
Painkillers/Narcotics
Birth control and contraceptive medications
If you are currently taking or have recently taken any of the medications listed above, it's essential to consult with your doctor, pharmacist, dermatologist, or a licensed medical spa professional before beginning a new skincare regime or trying new products. These reliable resources can provide you with accurate information about different contraindications.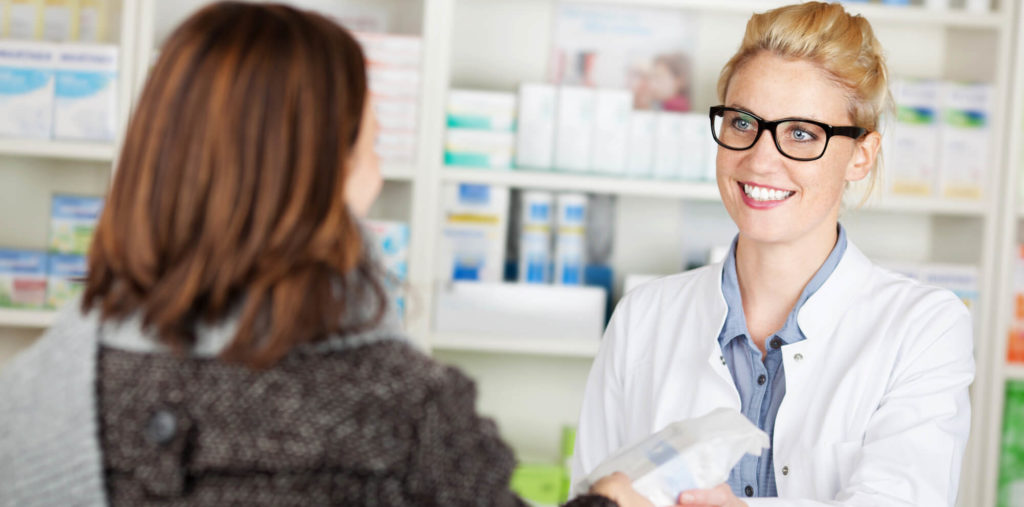 Talk to a Trusted Professional
When you schedule an appointment for a facial treatment or buy a new skincare product at the beauty store, you'll probably be understandably excited to see the results. Unfortunately, for people on certain medications, the result can be adverse side effects, discomfort, and sometimes even pain.
It's vitally important to consult with experienced professionals to understand how your prescription and OTC medications will interact with the products in your skincare routine. There are a few different options available for you to find accurate information about relative contraindications:
1. Doctors
The best place to start when considering a new product for your skincare regime is the doctor's office. Your general practitioner can provide you with accurate and up-to-date information on how your current medications will interact with the products you like.
Since your doctor has a good understanding of your general health, allergies, and past illnesses, they will have valuable insights into how the skincare products you want to use will actually interact with your skin. Doctors are definitely a trusted source of information about relative contraindications and can save your skin a lot of pain and discomfort with a quick, simple conversation.
2. Dermatologists
Don't be afraid to back up your doctor's claims with even more reliable information from your dermatologist. Dermatology experts deal with a lot of unusual and irritating skin conditions, so they'll likely have a ton of knowledge on relative contraindications.
People with sun-sensitive skin should especially consult with a dermatologist. Some prescriptions can make sun-sensitive skin even worse, so you'll want to avoid these interactions. With skin cancer being so common and continuously on the rise, it's crucial to take good care of sun-sensitive skin types.
3. Pharmacists or Pharmaceutical Technicians
Another place where you can find a wealth of information about relative contraindications is actually at the pharmacy. When you're picking up your next prescription, or even just buying some over-the-counter medications, make sure to ask the pharmacist or pharmaceutical technician to explain how that specific medication can interact with the skincare products you use.
4. Licensed Medical Spa Clinicians
The last but certainly not least valuable locale to find information on skincare routine reactions with medications is your local medical spa. Licensed estheticians and medical spa technicians can talk to you about your current prescription and OTC medication regime and provide you with recommendations for an appropriate skincare routine.
Medical spas can also offer you the right facial treatments for your skin type and medications. Some popular facial and skincare treatments include:
Photofacials
Dermaplaning
Chemical peels
Dermal fillers
Microdermabrasion
Microneedling
Injectables
And much more
Schedule a Skincare Consultation
Everyone wants to feel comfortable and confident in their own skin. If your medications are interacting negatively with your skincare routine, it can be irritating, uncomfortable, and downright painful at times.
Instead of struggling with your skincare routine, schedule a consultation with a licensed medical spa, like Spa MD, to ensure that you're getting the best services for your skin type and medication regime. With the right products and skincare services, you should be confident and glowing in no time.