Aging is a natural process, but it can be frustrating if you want to keep your face looking young and smooth. However, forehead wrinkles can be caused by more than just age and are difficult to cover with makeup. It might seem like there's not much to do about wrinkles. 
If you have forehead wrinkles or are trying to avoid developing them, there are a few ways to do that. However, one of the best ways to get rid of forehead wrinkles is simple Botox injections or skin treatments. It's not the only way, but it is easy and inexpensive to schedule. 
Here is a guide to forehead wrinkles, including how to prevent them, how to avoid them, and what to do when you have forehead wrinkles. With this guide, you'll be able to deal with any forehead wrinkles before they become an issue. 
What Causes Forehead Wrinkles
Before learning how to prevent forehead wrinkles or get rid of them, it's important to know how forehead wrinkles occur. Although most wrinkles start to appear with age, forehead wrinkles are an exception to this. 
Forehead wrinkles do get more pronounced with age, but they are also caused by facial expressions, raising eyebrows, and other facial movements. The more you raise your eyebrows, furrow your brows, and move your face in other ways, the more the skin on your forehead will stretch and move. 
As your skin stretches to create facial expressions, it will eventually leave wrinkles or lines on your forehead. While this is a natural phenomenon, many people prefer the look of smooth, clean skin, free of any unnecessary lines. If this is the case, multiple ways exist to reduce or smooth out forehead wrinkles. 
How to Prevent Forehead Wrinkles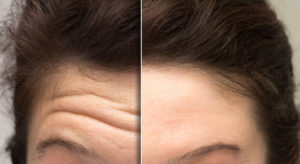 Of course, there are multiple ways to reduce forehead wrinkles. However, it is easier to try and prevent them before they appear on your forehead. There are several ways to do this (which don't involve not making facial expressions or raising your eyebrows). Here are some of those ways. 
Skincare 
Maintaining a healthy skincare routine is the most important way to prevent forehead wrinkles. Dehydration is the most common cause of poor skin health, so using a good moisturizer can make all the difference in skin care. Regular skincare routines, especially moisturizers, can keep your skin fresh and clean. 
Diet and Water
Your diet and hydration also affect your skin's health. With consistent water, your skin can naturally hydrate and prevent aging and wrinkles. Eating a diet rich in antioxidants will make your skin healthier. Vitamins such as vitamins A, E, and C are essential for skin health and can be found in fruits and vegetables. 
Sun Exposure
While you can prevent forehead wrinkles by taking good care of your skin, you should also prevent harm. Sun exposure damages your skin, whether you feel a sunburn or not. Skin exposure causes wrinkles and lasting skin damage. Wear sunscreen every day, and avoid excessive sun exposure. 
Smoking and Alcohol
Another way to avoid skin damage is to minimize or avoid smoking and alcohol. Both of these habits are detrimental to your overall health but especially damage your skin. Drinking alcohol and smoking cause dehydration, increasing your chances of excessive wrinkles. 
How to Reduce Forehead Wrinkles
Of course, you can take perfect care of your skin and still develop some wrinkles. It's a part of aging and using your face normally. However, there are ways to reduce forehead wrinkles once you've developed them and go back to a smoother forehead. 
Skin Creams and Exfoliants
If you already have wrinkles or skin lines, you can reverse the aging process by using the proper skincare. Antioxidant-infused skin creams can increase the buoyancy and youth of skin and remove wrinkles. Exfoliating skincare routines also allow your skin to regrow, and fresh skin cells are tighter and don't wrinkle as much. 
Skin Treatments 
You can treat skin in multiple ways to help fresh skin cells grow. When fresh skin cells can grow, the skin will be tight and clean and not have as many wrinkles or lines. A chemical peel or laser treatment is a way to medically induce new, fresh skin to grow. However, these treatments are usually reserved for melanoma and other skin issues. 
Botox and Plastic Surgery
Of course, you can use a simple Botox injection to tighten up your skin and decrease the number of wrinkles or lines on your forehead. Whether you try Botox, microneedling, or another plastic surgery technique, you will see results almost immediately. Plastic surgery is a lasting effect but will need upkeep and further appointments. 
So, How Does One Steer Clear Of Visible Signs of Ageing?
Forehead wrinkles are a natural part of life, but there are multiple ways to prevent and reduce them once they appear. If you decide to contact a professional spa for skin care treatments, you can reduce your wrinkles and prevent future ones. Contact SpaMD today to get started.