Self-care is one of today's most popular topics, meaning it's finally getting the spotlight it deserves. Of course, a healthy heart and mind are vital but let's not forget about the biggest organ of your body – your skin. While there are many foods to avoid for clear skin, we've compiled a list to help you determine what foods are good for your skin. Read on to learn about 21 antioxidant-containing foods, so that you can reap the benefits in no time.
Vegetables
Have you ever thought about how many times you were told to eat your vegetables as a kid? What about the complaints that came with it? There are many varieties of vegetables that house essential vitamins and collagen-enhancing properties, so your skin can look and feel great, such as:
Broccoli: As enticing as broccoli drenched in cheese may be, many are unaware that plain broccoli is full of vitamin A, C, and zinc.
Bell peppers: If you're looking for an easy on-the-go snack, red and yellow bell peppers contain beta-carotene, which, in time, is turned into vitamin A.
Tomatoes: Whether Cherry, Heirloom, or Beefsteak, tomatoes are high in vitamin C and full of carotenoids.
Sweet potatoes: Even though this root vegetable has a sweet taste that may not be your favorite, it contains impressive amounts of beta-carotene.
Leafy greens: Don't be afraid to ask for that side salad next time you're out – leafy greens like kale, chard, or spinach have chlorophyll to help speed up collagen production.
Avocados: Whether you eat avocado toast each morning, add one to a smoothie, or eat it right out of the shell – avocados offer an assortment of essential healthy fats that help keep your skin moisturized, flexible, and glowing year-round.
Artichokes: From steaming and boiling to baking, grilling, and more, artichokes are an enjoyable snack for any time of the year. If you have blemish-prone skin, artichokes contain the antioxidant Flavonoid Silymarin to help you combat it.
Nuts and Seeds
Put down that bag of potato chips as your afternoon snack and grab a handful of nuts and seeds. These delicious snacks are will help your skin stay healthy and make you look younger. Nuts and seeds have many fatty acids that our bodies can't make on their own but happen to be great for overall skin health.
Walnuts: Known as a nutritional powerhouse, walnuts are full of omega-3 and omega-6 fatty acids, selenium, and protein.
Sunflower seeds: While many seed variants are great for your skin, sunflower seeds take the cake because they're jam-packed with vitamin E.
Cashews: If you've been on the hunt for a sweeter-tasting nut, cashews are it. Even better – they're full of zinc and copper, which help boost collagen production.
Chia seeds: Do you make smoothies every morning? If so, you may already be adding chia seeds which are full of omega-3 fatty acids, to promote clear skin.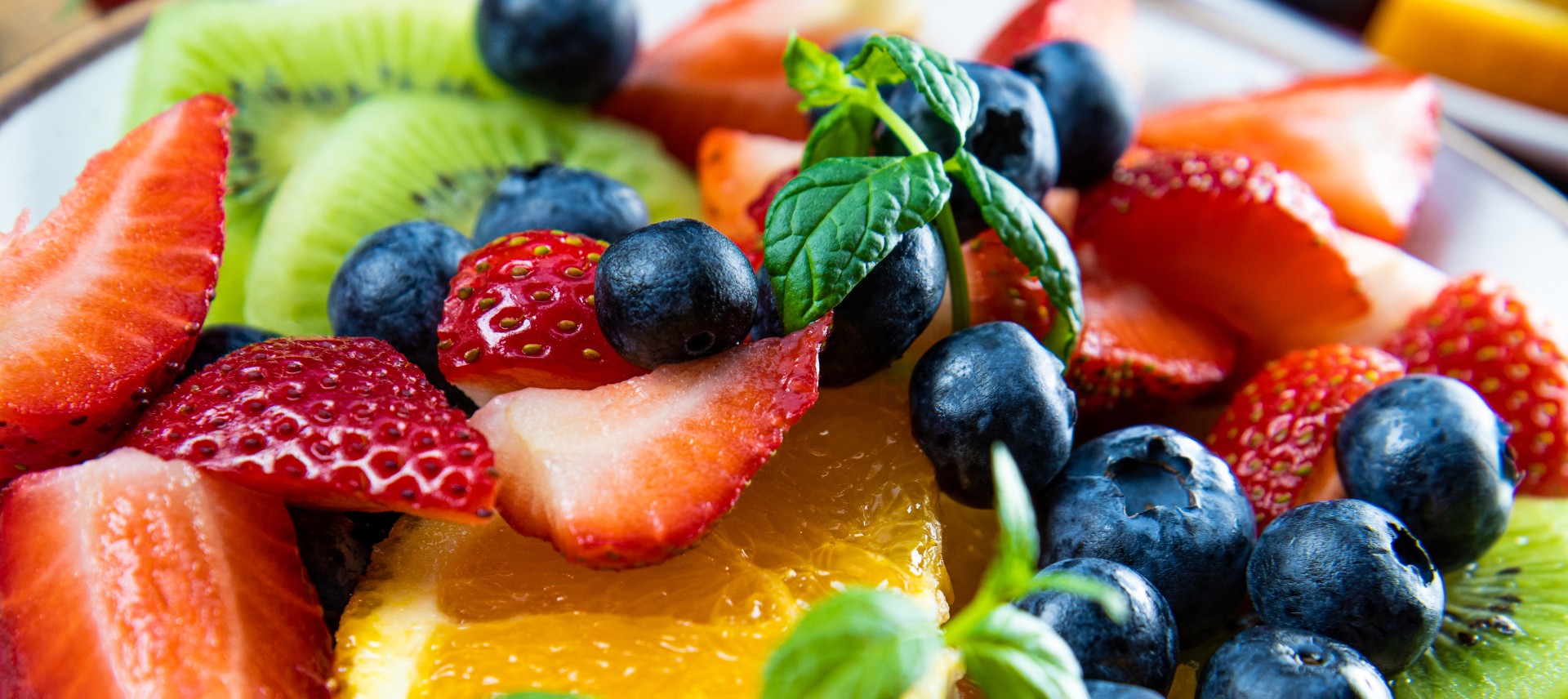 Fruits
While fruits tend to be high in sugar, many are packed with vitamin C, which is a great way to help keep your skin clear.
Citrus: From oranges and grapefruit to lemons, many citrus varieties contain an abundance of vitamin C.
Tropical: Many tropical fruits are good for your skin, including pineapples, mangos, and kiwi.
Berries: Do you like strawberries? What about blueberries or blackberries? Well, you're in luck – berries contain vitamin C and beneficial antioxidants.
Red grapes: Whether eating red grapes fresh off the vine or frozen for a refreshing sweet treat, resveratrol helps reduce the effects of aging.
Drinks
Although not foods, there are many beverages that are great for the health of your skin as many contain impressive amounts of antioxidants and resveratrol.
Green tea: Adding a glass of green tea into your daily routine will help your skin get essential antioxidants. These powerful nutrients can aid in protection from UV rays, staying moisturized, and maintaining a healthy appearance.
Red wine: While you've probably heard that a glass of red wine is good for your heart, did you know it also helps slow down skin aging? That's right; red wine contains resveratrol which promotes youthful-looking skin.
Fish
Fatty fish are foods that make you look younger. Since these meats are rich in omega-3 fatty acids, they help keep your skin from becoming too dry, reduce inflammation, and are full of antioxidants for healthier-looking skin. Next time, reach for these fatty fish options, including:
Dark Chocolate
Craving a sweet treat isn't unusual, especially when there are so many kinds of chocolate. However, next time you reach for chocolate make sure to skip white and milk and opt for dark. Dark chocolate contains cacao which helps protect your skin from the sun, improves blood flow, and gives you back your glow as well.
Enhance Your Diet Today
There are a million different practices you can incorporate into your daily routine to help enhance collagen production, keep your skin youthful, and feel fresh. From sunscreen and moisturizing creams to anti-aging regimens and vitamin-rich serums, maintaining healthy skin can seem overwhelming.. However, vibrant, glowing skin is possible with a healthier, nutrient-rich diet. As you continue to include these nutritious foods into your diet, consider getting one of the many skin-enhancing procedures from SpaMD. Whether you're looking to exfoliate the old skin or treat problem areas, our team is here to help. Call us today to get your free consultation.