When you live in the North, summers are for soaking up the sun and spending as much time as you can outdoors. But, even though it's great to take advantage of everything summer has to offer, it's essential to protect your skin from the sun's harmful rays.
A sunburn can damper your plans, depending on the severity. Sunburn symptoms can start after only a short amount of time in the sun.
After prolonged exposure to the sun, your skin can develop freckles, sagging skin, fine lines and wrinkles, and even hyperpigmentation. While prevention with SPF is still the best choice, that doesn't change existing sun damage. Thankfully, there are several excellent noninvasive and nonsurgical procedures available to help revitalize your skin.
Spotting Sunburn Symptoms
If you're fair-skinned, you probably have experience with sunburns, but how do you identify sun damage? After spending too much time in the sun, you could develop sunburn and sun poisoning symptoms. Take a look at what could form after one day of prolonged UV exposure:
Red, Tender, and Itchy Skin
Blotchy Patches
Radiates Heat from Burn
Nausea, Fainting, and Headaches (Sun Poisoning)
Painful, Inflamed Skin
Flaky Skin and Scabs
Hyperpigmentation
While these are common signs of an immediate sunburn, they can also lead to sun-damaged skin, especially over time. If you're wondering how to treat sunburn fast, there is some help. For recently sunburned skin, applying a cooling lotion and gently exfoliating after a week is your best bet.
For more extensive sun damage that leaves brown sun spots, discoloration, and uneven texture, it's necessary to up your treatment game with a trip to your favorite medical spa!
Let's take a look at the top treatments for permanent sun-damaged skin to help boost your confidence!
Chemical Peels
Chemical peels are the number one treatment to help reverse sun damage and potentially eliminate precancerous spots! That's because of the natural acids- such as trichloroacetic, lactic, glycolic, beta-hydroxy, or hydroxy acid- that penetrate layer after layer to boost skin cell regeneration.
Even though peels can cause some slight discomfort, redness, and swelling, don't let their intimidating reputation scare you. Depending on the severity of your sun damage, your dermatologist or esthetician will recommend one of three different chemical peel levels. Naturally, the more superficial the peel, the more minimal the side effects and recovery will be.
Not only will you have new healthier skin cells after facial peels, but your skin will also be more absorbent to skincare products. You can continue to add healthy topical serums with more promising results.
Recovery Time
Each peel will require a different recovery time and come with its care routine. Take a look at what to expect below:
Superficial Peels usually take 1-7 days to heal properly. Make sure to moisturize to avoid scabbing.
Medium Peels take an average of one to two weeks to heal. You can expect excessive swelling for the first 48 hours with scabbing and skin peeling after the first week. Avoid sun exposure, apply lotion, and take antiviral medications as recommended throughout the process.
Deep Peels are the most intensive chemical peel option. They require a minimum of 14-21 days to recover. You'll also need to soak your skin 4-6 times a day, take antiviral medications, avoid all sun exposure, and consistently moisturize to ensure proper healing.
Laser Resurfacing
If you're hesitant about getting a chemical peel, you can always consider a laser treatment. Medical-grade lasers help correct age spots, wrinkles, sun damage, and more by using a concentrated beam of light to "laser peel" your old skin cells.
Similar to chemical peels, laser treatments vary in depth and energy to help reduce complications and recovery time. There are two laser options: ablative and non-ablative. While both stimulate collagen production, they serve slightly different functions.
Ablative lasers are more superficial, focusing on scraping off the first layer of skin.
Non-ablative lasers penetrate deeper into the layers to stimulate new skin cell production.
Recovery Time
Within the first 24 hours post-treatment, you will have some redness and swelling. You will also need to carefully clean the skin and apply a protective ointment to avoid scabs. For the next few days, your skin will likely have some swelling, itching, or stinging as your old skin begins to peel off slowly. Since non-ablative laser treatments penetrate deeper, you will have less downtime compared to the ablative healing process.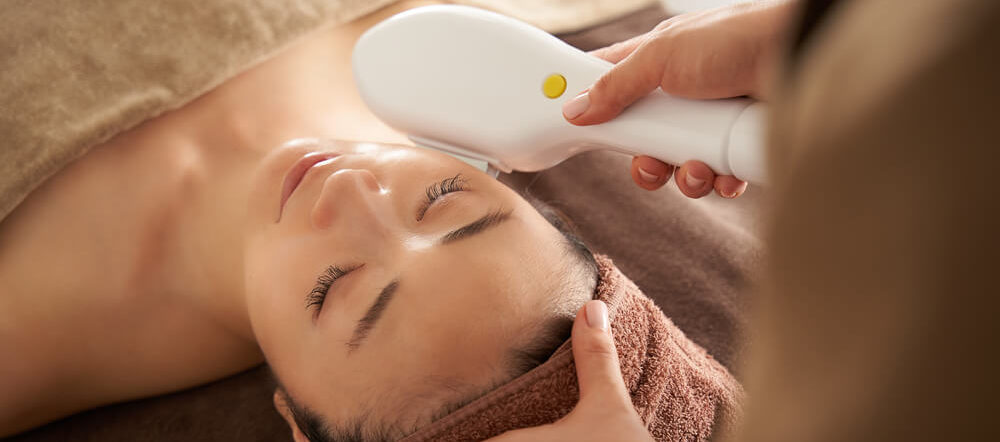 Photofacials
An IPL photofacial uses intense pulsed light to heat your skin and boost collagen production. This process removes damaged skin one layer at a time by lifting the hyperpigmentation to the top to be exfoliated off later.
See some skin issues below that photofacials can treat
Freckles
Sagging or Blotchy Skin
Skin Discoloration
Wrinkles
Sun Damage
Post-treatment, dark spots may appear even darker than before because they have risen to the top layer of skin. Follow these photofacial aftercare tips to aid in healing and leave your skin feeling and looking better in no time.
Recovery Time
While recovery will vary based on each individual, you can expect redness and possible swelling 2-5 post-treatment. At that time, your skin starts to peel. In a few weeks, it's a great idea to add a gentle exfoliation treatment to get rid of your dead skin cells.
Microdermabrasion Facial
Say goodbye to dull and lackluster skin, and say hello to a brighter, smoother look with microdermabrasion. A microdermabrasion facial is a nonsurgical skin exfoliation process that helps restore your skin's vibrancy.
So, how does it work? There are two different types of treatment: diamond microdermabrasion and crystal microdermabrasion.
Both procedures require a skilled esthetician to use a vacuum suctioned wand embedded with diamonds or crystals to exfoliate the skin gently.
Benefits of Microdermabrasion:
Reduced Acne Scars
Shrunken Pores
Smoother Skin
Boost in Collagen Production
Decreased Hyperpigmentation
Reduced Appearance of Fine Lines and Wrinkles
When treating sun-damaged skin, using a peel and an exfoliating treatment combination helps clear away the old skin cells to make way for the new ones.
Recovery Time
Since this treatment exfoliates and extracts dead skin cells, there will be minimal discomfort. However, while it is relatively quick and easy, it still takes roughly a week to return to your regular skincare routine. Some people even continue to add a slight rosy hue to their skin for an additional 6-8 weeks.
Dermaplaning
Now, if you have a sensitive skin condition, microdermabrasion may not be the best option for you. Try another exfoliating treatment, like dermaplaning, instead. Dermaplaning is an exfoliation technique where a clinician uses a sharp blade to scrape off dead skin and facial hair gently.
This process has become popular recently thanks to celebrities and social media, and for a good reason too. It's a safe and painless way to provide immediately smoother skin. It also helps improve the appearance of dark spots, wrinkles, acne scarring, and the overall texture of your skin.
Recovery Time
Out of all the procedures listed above, dermaplaning has the shortest recovery time of them all. That's because it doesn't use any natural acids, lasers, or powerful exfoliation tools. Instead, a clinician gently swipes a blade upwards against your skin. Not only will you have no downtime after this procedure, but many clients say it's quite an enjoyable exfoliation experience.
Compare the difference between microdermabrasion and dermaplaning to see which one is best for you.
Say Goodbye to Sun Damage with SpaMD
If you have been struggling with your sun-damaged skin, it's time to make a change. Thankfully, there are several excellent options: chemical peels, photofacials, and even exfoliating treatments like microdermabrasion and dermaplaning.
Now that you can differentiate between immediate sunburn symptoms and the long-term effects of sun damage, you can find the best solution for your skin's needs.
Don't stop there! Maintaining healthy skin starts with prevention and continues with regular treatments to ensure healthier, younger-looking skin. Make sure to ask the team at SpaMD what top treatments for sun-damaged skin they recommend for you.
Contact us today to set up your free consultation, and let us help you get your glow back!