Temperatures are dropping, and frost lingers as the cold, dark winter months creep up quickly. When winter arrives, you want your skin to be ready for the harsh conditions. Wintertime brings along a plethora of problems like dryness, flakiness, or scaly, red, and itchy skin.
Preparing Your Skin for Winter
Get the skin on your face and body ready for winter with a variety of products, professional skincare treatments, and at-home remedies. Work with a dermatologist or licensed esthetician to devise an effective skincare regimen for the winter months. It's crucial to prepare your skin for winter to avoid painful, unsightly skin issues during the coldest days of the year.
What Happens to Your Skin in the Winter?
Everyone knows that the winter is an incredibly dry season. Moisture exits the air, leaving your skin dry, itchy, and red. During the colder months, you want your skin to be as hydrated and nourished as possible. To prepare for the skin problems that come with the winter season, remember to drink plenty of water and utilize hydrating lotions and creams in the months leading up to the new season. Undergoing facial treatments like chemical peels or facial resurfacing will also help combat winter skincare issues.
Sunscreen Is Essential for Winter Skincare
Some people might be surprised to hear that nearly all dermatologists agree that sunscreen is an essential part of winter skincare. You might typically toss your used bottles of sunblock in the trash at the end of the summer. However, skincare professionals recommend that you still wear sunscreen even in the colder winter months.
The Benefits of Wearing Sunscreen in the Winter
If you spend a lot of time outdoors enjoying hikes, snowshoeing, ice skating, or hitting the slopes, you absolutely must wear winter sunscreen. Overcast winter days can be misleading. As much as 80% of the sun's rays penetrate cloud cover, so your face is exposed to harsh UVA rays. Too much exposure to the sun can cause severe skin damage or even skin cancer. This risk is exacerbated even more so in high altitude areas. According to the Skin Cancer Foundation, one in five American's over the age of 70 will develop cancer. Wearing sunscreen in the winter could seriously save your life.
Popular Winter Sunscreen Products
Winter weather is unique, and the sun's strength might seem subtler than in the summertime. However, you still need sufficient sunscreen to avoid any illnesses or skin cancers like melanoma.  Luckily, you can use a vast array of winter sunscreen products to protect your skin from the sun's intense rays.
We recommend using a broad-spectrum sunscreen with an SPF of at least 15 to avoid the aging effects of UVA rays. To block UVB rays, which cause painful sunburns after reflecting off the white snow, opt for a higher SPF ranging from 30 to 45. There are several ways to protect your skin using sunscreen, which include:
Facewashes
Lip balm
Eye cream
BB-cream
Face and body moisturizer
Sunscreens are continually evolving to offer the most protection. These days, you can find some of the best winter sunscreens right at your local drug store. Incorporating sunscreen into your morning skincare routine helps avoid damage to your face and other parts of your body from the sun.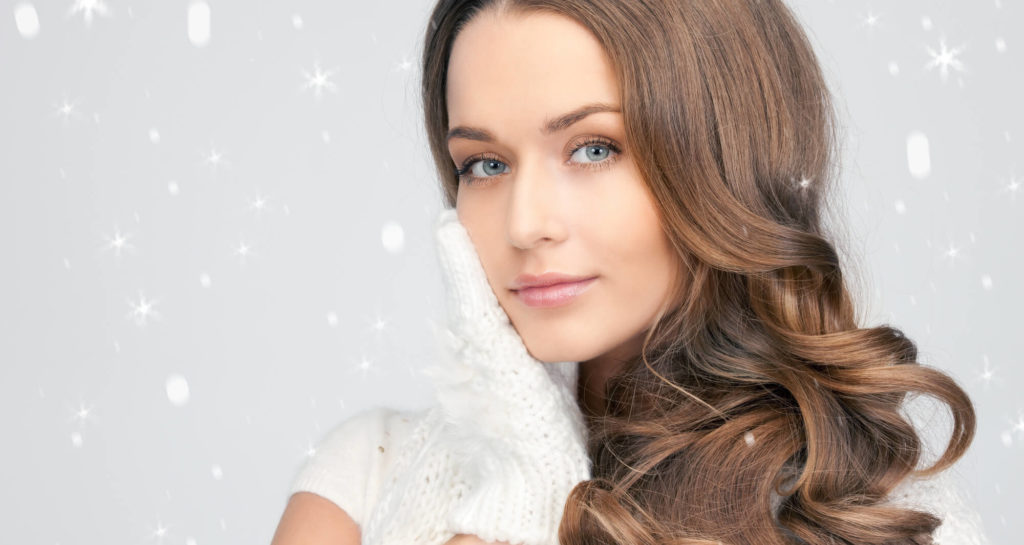 Tips for Beautiful Skin in the Winter
Winter is a tough time for various reasons: the days are short, the weather is cold, and snow blows don't come nearly quickly enough to clean up the local streets for safe driving. On top of all that, winter is one of the worst times for people's skin. We've compiled a list of top winter skincare tips to keep your skin smooth, hydrated, and healthy all winter long:
1. Use Hydrating Products
The cold winter air quickly dries out your skin, so prioritize using refreshing face and skin products. Look for hydrating creams called humectants that help your skin retain moisture throughout the season.
2. Keep a Regular Skincare Routine
It's essential to maintain a regular skincare routine throughout the winter. Whether you choose to moisturize and prepare your skin in the morning or opt for a relaxing nighttime regime right before bed, remember to keep up with it regularly. Use gentle, cleansing washes to wipe away any dirt or oils that accumulate during the day to avoid any unnecessary acne and pimple breakouts.
3. Soak in the Tub
Another fantastic way to keep your skin refreshed and hydrated throughout the winter months is by soaking in a warm bath. You can add aromatic items like bath bombs, Epsom salt, or homemade baking soda mixtures to the water for increased relaxation and rejuvenation levels.
4. Avoid Irritating Clothing
You might think that the dry winter air only affects hands and feet negatively. Unfortunately, this is not the case, and the rest of your body can easily succumb to dry, itchy, and uncomfortable skin conditions in the wintertime. To avoid these annoying and unpleasant skin problems, take care to remove any irritating clothing from your closet. Itchy materials and scratching sweaters can result in red, blotchy skin all over the body, so it's best to find fabrics that feel good against your skin.
Other clothing items that can irritate your skin are damp or wet articles. Sometimes you might get caught in a snowstorm that leaves your clothing damp and uncomfortable. The excess moisture in the clothing items can lead to eczema and other rashes on your body. Remove these clothing articles immediately and change into dry, comfortable clothes.
5. Moisture Matters
When the temperature drops to freezing levels, it's tempting to take long, steaming hot showers. However, excessive amounts of time in the hot, steamy bathroom environment can cause further skin irritation in the winter. Too much time in the shower can lead to dry, itchy skin across your body. The CDC recommends limiting showers to five or ten minutes in warm, but not hot, water.
Another way moisture can negatively affect your skin is through inconsistent humidity levels. It might be more comfortable in your home, with the heat cranked all the way up. However, this can remove humidity from the air, leaving your skin feeling dried out and damaged. Consider buying a humidifier to utilize in the wintertime so you can ensure you're always receiving the right amount of humidity inside your home.
Facial Treatments To Try This Winter
Modern facial treatments aim to make your skin look younger, smoother, and healthier overall. Various facial treatments for winter will help add moisture to your skin and reduce signs of wrinkles and aging caused by the sun and dry, crisp winter weather. Some of the best treatments to reduce the impacts of winter weather on your skin include:
1. Dermaplaning
Everyone loves the way their skin glows in the summertime, but winter often leaves people's faces dry, irritated, and full of dead skin. Dermaplaning helps remove dead skin and unwanted hairs while smoothing over wrinkles and leaving the skin looking more bright and refreshed than ever. It's a simple, painless, and non-invasive way to combat skin issues caused by cold weather.
2. Photofacials
Another easy way to reverse the unattractive effects of wintertime on the face and skin is with a photofacial. This treatment is used on both the body and face to reduce redness and unsightly discoloration caused by too much time in the sun. Photofacials are exceptionally effective in treating rosacea, acne, and other uncomfortable skin issues that arise during the winter months.
3. Chemical Peels
Keeping the negative impacts of winter weather at bay can seem challenging for many people. However, chemical peels can help ease the pains of winter skin problems. Wrinkles, age and sunspots, and other unattractive skin issues are often more noticeable in the winter months when your skin is pale, pasty, and dry. Consult with a dermatologist or licensed skincare specialist to learn more about chemical peels.
Chemical peels can reduce the signs of aging like wrinkles and sunspots. This facial treatment also reduces the appearance of embarrassing acne scars. When you receive a chemical peel in the winter, your face will feel refreshed and vibrant as if it was still summer.
Successful Winter Skincare Routines
The winter months are known to wreak havoc on all skin types ranging from typical to extremely sensitive, problem-prone skin. The air's moisture loss enables your skin to become dry, itchy, red, and uncomfortable quickly. Whether you're embarrassed by your skin's appearance or just want to be proactive in protecting your skin in the winter months, it's crucial to keep up with a comprehensive winter skincare routine.
Incorporating hydrating moisturizers and protective sunscreens will keep your skin from feeling the effects of winter's frigid air. You can also pair professional facial treatments with your at-home routine to gain ultimate levels of skin rejuvenation. Your skin is sensitive and sacred, so you should prioritize taking care of it in the exceptionally harsh winter months. Contact a licensed skincare professional to provide recommendations and treatments to keep your skin fresh, smooth, and hydrated all winter long.