Skincare is not limited to teenagers putting on facemasks at a sleepover. Why should the fun stop there? For women over 50, skincare is one of the many ways to let inner beauty shine on the outside.
Your skincare routine ebbs and flows over the years to accommodate your needs. Perhaps once you were dealing with acne, then eczema, and then learning to accept your wrinkles.
Wrinkles, sun spots, and textural changes will appear on your skin as you age. This is natural, and there is no need to prevent this from happening unless that is what makes you feel best in your skin.
To keep your skin beautiful as you reach mid-life, follow these 10 tips.
1. Sunscreen is Your Best Friend
Sunscreen is the best product you can wear on your skin every day, no matter what age you are. Ideally, daily sunscreen use will begin in the teenage years, but it is effective no matter when you start.
Wear at least SPF 40 every day to block damaging UV rays from the sun. Yes, wear it even if it's cloudy or cold out!
Avoid certain sunscreen ingredients such as parabens and fragrances which can cause health issues and allergic reactions. Instead, opt for sunscreen with healthy ingredients such as:
Glycerin
Hyaluronic acid
Vitamins A, C, and E
Apply sunscreen to your face to wear alone or underneath makeup. Don't forget about your hands and neck, as these are the first places that dramatically show signs of aging.
2. Use Retinol Products
Retinol is an outstanding skincare discovery that targets the lower layer of skin while you sleep. Retinol helps mature skin in many ways by:
Boosting your skin's ability to produce collagen
Softening hyperpigmentation on the skin
Providing Vitamin A
Retinol is easy to get excited about, but don't go overboard right away. Skin takes a little bit of time to adjust to retinol. Begin by adding a pea-sized amount to your routine once a week. The next week, try using it twice a week.
From there, you can build up your tolerance slowly but surely. You will begin to notice an improvement in your skin texture and tone. You will also notice diminished wrinkles.
3. Exfoliate, Exfoliate, Exfoliate
When our skin ages, the skin cell turnover slows down. Meaning, new skin cells don't make their way to the surface as fast as they used to. This causes the skin to dim in color and produce more wrinkles.
Exfoliating removes dead skin cells which encourages the skin to replace them with new cells. Exfoliation is ideal for treating stretch marks that naturally occur over the years.
Mature skin requires exfoliation, but be careful not to be harsh or overdo it. Look for gentle, non-drying exfoliating products. Avoid aggravating your skin by using a gentle scrub no more than 3 times a week.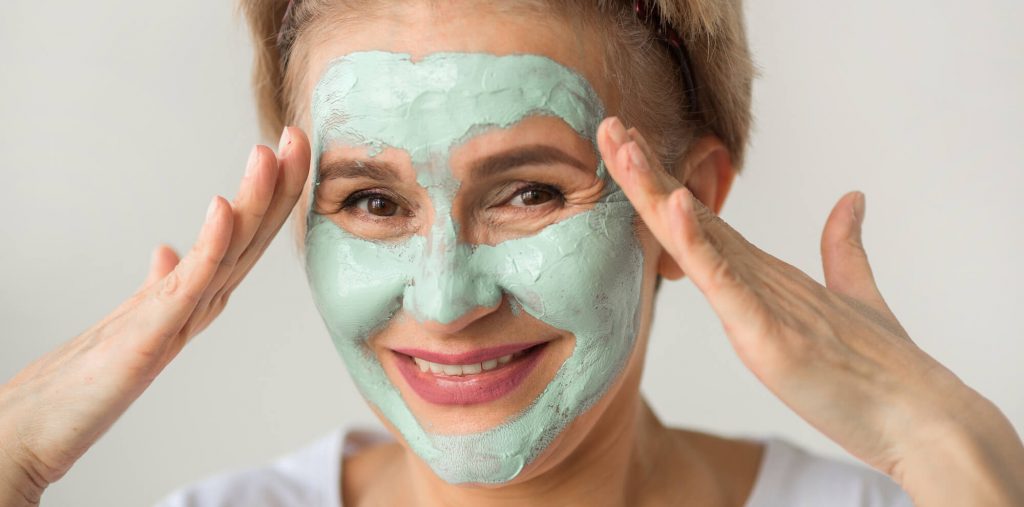 4. Give Face Masks a Try
Using face masks after a long day is a great way to relax before bed. In addition to being relaxing, face masks provide moisture and a cool compress.
Face masks help mature skin to feel and look rejuvenated. The best part is, you can often get your exfoliating done while massaging in a face mask! Say hello to fresh, smooth, and hydrated skin.
5. Communicate With Your Doctor
As you age, it is essential to practice good communication with your health care providers. Another reason to wear your sunscreen every day is to minimize your chances of getting skin cancer.
Keep a close eye on your skin. Contact your doctor right away if you notice:
Brown spots with dark speckles
Smell lesions with irregular borders
A mole that changes color, size, or bleeds
A painful, itchy, or burning lesion
Certain medications can interact with skincare products. Before you start a new medication or a new skincare regimen, consult with your doctor or dermatologist. These trusted professionals will share their knowledge about any products that may interact with your medications.
6. Boost Your Collagen
Collagen is the natural protein in your skin. It supports your bones, cartilage, and muscles. As your skin matures, collagen production slows down.
When collagen production slows down, wrinkles appear. Collagen-boosting treatments help bring back the strength to your skin. Increased collagen helps protect your skin from outside factors, keeping you looking refreshed and restored.
7. Try Different Skin Treatments
Skin treatments aren't for everyone, but they have many benefits for aging skin for those who participate. Botox, lasers, and chemical peels all bring different perks to the table.
Botox
If you want to reduce wrinkles, Botox and fillers are the best options. Botox lifts your eyes and freezes smile lines. Fillers minimize the loss of fat by plumping your cheeks.
Lasers
Laser treatments treat a variety of skin issues. Lasers can rid your skin of hair, age spots, and scars. They can even smooth out the texture of your skin.
Chemical Peels
Chemical peels can remove fine lines, freckles, and age spots. They also smooth the skin around your eyes and mouth. Chemical peels are practically painless and more affordable than lasers or Botox.
8. Cleanse, Tone, Repeat
The best way to start your skincare routine over age 50 is to wash your face every day. Start and end your day by washing your face with a gentle cleanser. Look for a moisturizing cleanser that is forgiving on sensitive skin.
After cleansing your skin, pat your skin dry and apply a toner. Toner will provide an extra layer of moisture and maintain your skin's pH balance.
If you find that your skin is drying out after washing your face twice a day, opt to only wash it at night.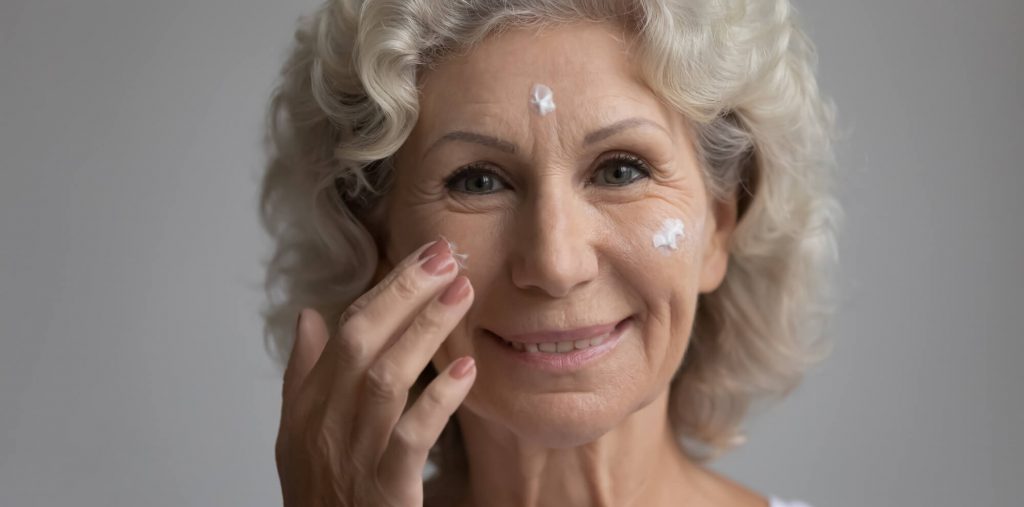 9. Find a Moisturizer You Trust
Moisturizers with hyaluronic acid help keep your skin cells hydrated. It is essential to moisturize mature skin twice a day to protect and replenish your skin.
Another way to lock in moisture is to first apply a hyaluronic serum and then lock it in with a gentle moisturizer. Moisturized skin minimizes irritation and redness.
10. Find a Healthy Balance
Some of the best skincare for women over 50 comes from outside of your skin. Reduce stress for healthy skin as you age. Not only is taking that relaxing vacation a fun idea, but it's also a healthy one!
Keep your skin hydrated by drinking lots of water. Good nutrition is essential for healthy skin. Some of the best foods for healthy skin are:
Avocados
Sweet potatoes
Green tea
Dark chocolate
Who knew taking care of your skin could be so delicious?
Mature Skin is Beautiful Skin
Women over 50 deserve to feel just as confident in their skin as women in their 20's. Play around and find what skincare products work best in your routine.
If you have any questions about products, or if you are ready to try a new skin treatment, schedule a free consultation at Spa MD today. Our knowledgeable clinicians are happy to help you feel beautiful in your skin.