You work hard to take care of yourself by eating right and getting the exercise you need. You understand that when you look your best, you feel your best. While you're always looking for ways to improve your overall health and appearance, you might be overlooking the toll that UV rays are taking on your skin.
If you love spending time outdoors for exercise or relaxation, UV rays might be damaging your skin without you realizing it. The damage doesn't show right away unless you get sunburnt, but it does gradually begin to show over time in a variety of ways. You need to learn more about UV rays exposure and your skin.
What Are UV Rays?
UV rays are a form of electromagnetic radiation that you can't see with the naked eye. Most of the UV rays that you come in contact with originate in the sun, although there are other sources of UV rays.
While UV rays can damage your skin, it's also necessary for your overall health. UV rays help your body stimulate the production of vitamin D. However, it only takes around five to 15 minutes of sunlight three times a week to get the benefits of UV rays.
UV rays are also helpful in sanitizing objects, such as medical equipment, because UV radiation kills bacteria. For some skin ailments, a doctor might recommend UV rays as part of the treatment, but the amount and length of exposure are carefully controlled.
What Are the Dangers of UV Rays for Your Skin?
While you might think that you don't spend a lot of time in the sun, the effects of UV rays are accumulative, and you might not see the damage for many years. Here's a look at some of the damage that UV rays do to your skin:
Sunburns: Immediate and painful, sunburns are one of the most common forms of UV damage. In some cases, sunburns can lead to sun poisoning if the burn is bad enough. Most sunburns fade in a couple of days, but there is also long-term damage that you don't see.
Premature aging: You want to look younger than your actual age and not older, but UV damage can cause you to look older. It can cause your skin to wrinkle and become leathery to the touch.
Skin cancer: UV damages your skin cells and the DNA within those cells. Over time, these damaged lines of DNA can morph into cancerous cells that mingle with your skin. This can cause both basal cell and squamous cell cancers, which are the most commonly found types of skin cancer.
Sun spots spots: Found almost anywhere on the skin, liver spots are brown or black circles or discoloration of the skin. Sun spots are most commonly associated with older age, which can add to the look of premature aging. There are treatments that can help these spots appear less noticeable on your skin.
Actinic keratosis: Typically, actinic keratosis shows up on the face, neck, ears, and arms of older people. These are rough, scaly patches of skin, and they start out small and expand over time. In some cases, actinic keratosis can create lesions on your skin.
Solar elastosis: This condition occurs when UV rays damage the skin's supportive connective tissue. You'll notice yellow patches of skin with deep wrinkles that don't abate when the skin is pulled taught.
If you're already facing some of these examples of damage from UV ray exposure, there are treatments and services available to repair or mitigate some damage. Of course, the best way to deal with UV ray damage is to avoid it.
Tips for Minimizing UV Ray Exposure on Your Skin
The best way to deal with the dangers of UV ray exposure for your skin is to avoid it in the first place. Check out these tips:
Wear Sunscreen
If you plan to go outside, rain or shine, you need to put on sunscreen. You need to be generous and ensure any areas of your skin that aren't covered by clothing are slathered in sunscreen. Many moisturizers and makeup products have sunscreen in them but if you plan to be in the sun for more than a few minutes, add sunscreen.
Wear a Hat
Underneath those gorgeous locks, you have skin that can receive damage from UV rays, If you plan to be outdoors and in direct sunlight for any length of time, consider wearing a hat.
Wear Long Sleeves and Pants
If you need to work in the garden or mow the lawn, put on a long-sleeved shirt and pants to protect your arms and legs from UV ray exposure. These can be made of lightweight, breathable fabrics during the warm parts of the year.
Treatments for Damage Due to UV Ray Exposure on Your Skin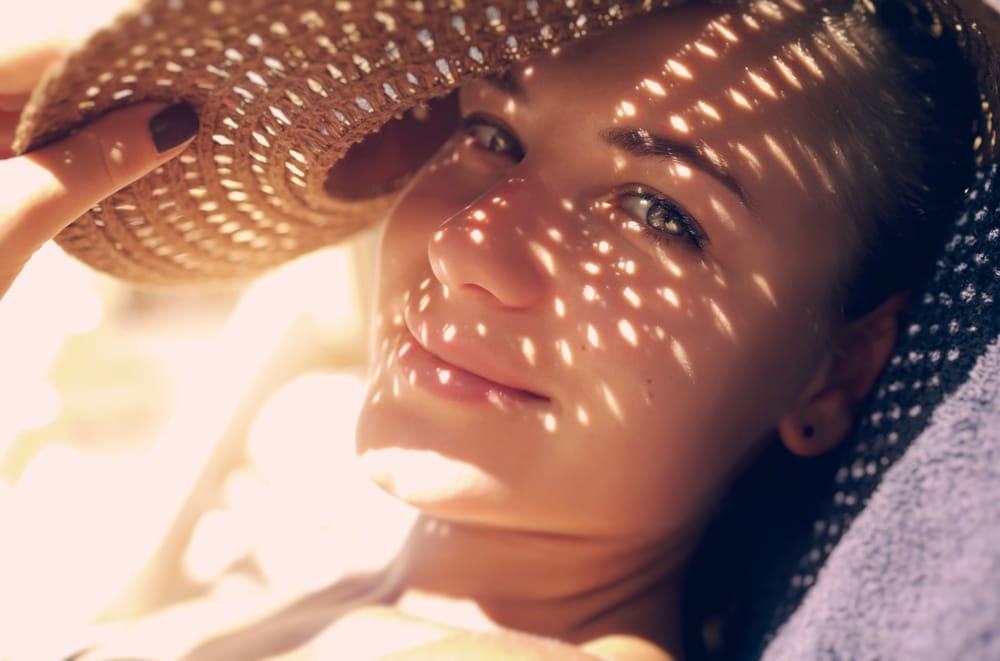 If you're already suffering from UV ray damage, there are steps you can take to minimize the damage and reduce its appearance. Here are a few common treatments.
Laser Treatments
Using a specialized laser, a technician can gently remove damaged layers of skin to reveal healthy skin. You need to work with a professional that can help you choose the best treatment for your skin. Top
Topical Medications
You can find both over-the-counter and prescription topical medications to treat UV ray damage. A medication, with retinol in it, can help to remove the look of fine lines and premature aging. Other ingredients to look for include niacinamide, vitamin C, and azelaic acid.
Fillers and Injectables
At a medical spa or your doctor's office, you can get injectables, such as Botox, injected to fill out fine lines and wrinkles. You can also opt for fillers, including  Restylane and Juvederm, to minimize the signs of aging.
In Closing
UV ray exposure can seriously damage your skin from a mild sunburn to premature aging. While you do need some exposure for your overall health, it's essential to take steps to limit your exposure and protect your skin. At Spa MD, we offer treatments to offset existing damage from UV rays. Contact us today to schedule an appointment to learn more.