SkinPen is a modern device that uses microneedling to cure common skin pathologies and rejuvenate the skin.
Skin is the body's largest organ and the first thing that meets the eye. Smooth and healthy skin is an indispensable aspect of good health and self-confidence. However, maintaining healthy, youthful-looking skin can be difficult due to various factors, including age, genetics, lifestyle choices, etc.
According to the American Academy of Dermatology Association, 84.5 million Americans suffered from different skin diseases in 2013. However, procedures like microneedling have provided a safer alternative to help revitalize your skin and restore its former glory without undergoing extensive dermatological treatments.
Microneedling involves introducing fine micro-needles into the skin to promote the production of natural proteins. Also known as percutaneous collagen induction therapy, it stimulates collagen and elastin production, resulting in quicker healing.
Minimally invasive, effective, and reliable, SkinPen is one of the best choices for microneedling today.
What Is SkinPen Microneedling?
SkinPen is an FDA-approved device used for microneedling. The state-of-the-art medical device includes the penetration of 12 pinpoint micro-needles into the superficial skin to address several aesthetic concerns. It has become the gold standard of the microneedling procedure due to its versatility and precision.
How Does it Work?
SkinPen microneedling enhances the appearance of your skin by rejuvenating it internally. It involves using tiny needles to form micro-injuries in the skin.
The small punctures enhance the blood flow to the skin surface and trigger the body's healing mechanism. That results in the production of new proteins and healthy blood cells at the site.
New and healthy collagen replaces the diseased skin cells and heals without forming scars, improving skin quality. The clinically proven device has shown superior results for achieving youthful skin and treating various skin conditions.
For Which Conditions Does SkinPen MicroneedlingWork?
SkinPen is a dermatological marvel readily being adopted to cure several dermatological conditions with long-lasting results. It can treat the following skincare concerns:
Aging Skin
Increasing age takes a toll on your skin health. The elasticity of your skin changes, and wrinkles start to appear. Thinning of the skin is accompanied by the formation of brown spots called liver spots. The spots are widespread and appear on skin areas exposed to the sun. Some women also feel their skin fades away sooner. For such people, microneedling is an excellent solution.
SkinPen microneedling is proven to be one of the most potent ways of halting the skin aging process. The microneedling device helps improve skin tone and texture while reducing discoloration.
Wrinkles and Lines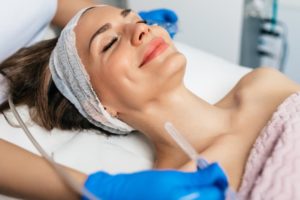 Microneedling with SkinPen has shown to be an effective therapeutic procedure in lightening wrinkles and lines. The formation of facial wrinkles and lines is due to a loss of elasticity and an increase in fragility.
Creating 'micro-wounds' generates the production of collagen in layers of skin, enhancing elasticity and imparting a youthful look. SkinPen microneedling allows the reduction of crevices and lines on the skin.
Acne and Scars
Modern microneedling devices can effectively fight acne scars. Acne scars are refractory and generally do not respond to chemical treatments. SkinPen microneedling triggers the immune system to remove the diseased/scarred skin cells.
The next step is the proliferation of granulation cells (with collagen) in the SkinPen-induced micro-wounds. The remodeled skin containing collagen and elastic is free of scars. This medical esthetic procedure also reduces large pores in those with acne.
Stretch Marks
Striae distensae or stretch marks are a common concern, especially among women. Microneedling is a potent therapeutic modality for the treatment of stretch marks. The minimally invasive collagen induction therapy provides quick results to remove visible stretch marks.
What Can You Expect During and After the Procedure?
One of the best aspects of SkinPen microneedling is that it is a painless procedure with minimal discomfort. A sigh of relief for those fearing pain.
This skin-rejuvenating activity is short and performed in a medical aesthetics office. Your therapist will start by applying a numbing cream to the treatment area to keep you comfortable during the entire process. It takes around 10-15 minutes to numb the skin completely.
Most clinics apply a hyaluronic-acid gel on the skin to allow easy movement of the SkinPen. It also cleanses the target area.
The micro-punctures (using SkinPen) are made in different directions, including:
Horizontal
Vertical
Circular
The creation of micro-wounds can cause slight pinpoint bleeding, but it stops and resolves quickly. However, you might notice skin redness, which will resolve in a couple of days. While minimal downtime is required, you should avoid wearing makeup and keep the treated skin safe from the sun during this time due to increased sensitivity.
How Soon Can I See the Results?
It is natural to be ecstatic to observe and feel the changes in your skin following the treatment. However, we recommend you be patient as skin tone, and texture changes can take some time to recover from years of damage.
The earliest changes most patients notice are after four weeks. Improvement in the skin can continue until six months. Several people need multiple sessions to obtain the desired results depending upon the severity of the concerns.
Is SkinPen Safe to Use?
SkinPen is cleared by FDA and Health Canada for microneedling. It is an excellent device for healthy adults with all skin types seeking to achieve smooth, radiant, and younger-looking skin with minimal side effects.
SkinPen microneedling is generally a highly safe procedure when performed under the supervision of a qualified professional. While you may experience some side effects like a burning sensation, temporary discoloration, or redness a couple of days following the treatment, there are no severe side effects or risks associated with the process.
Is Skinpen and Microneedling Right for You?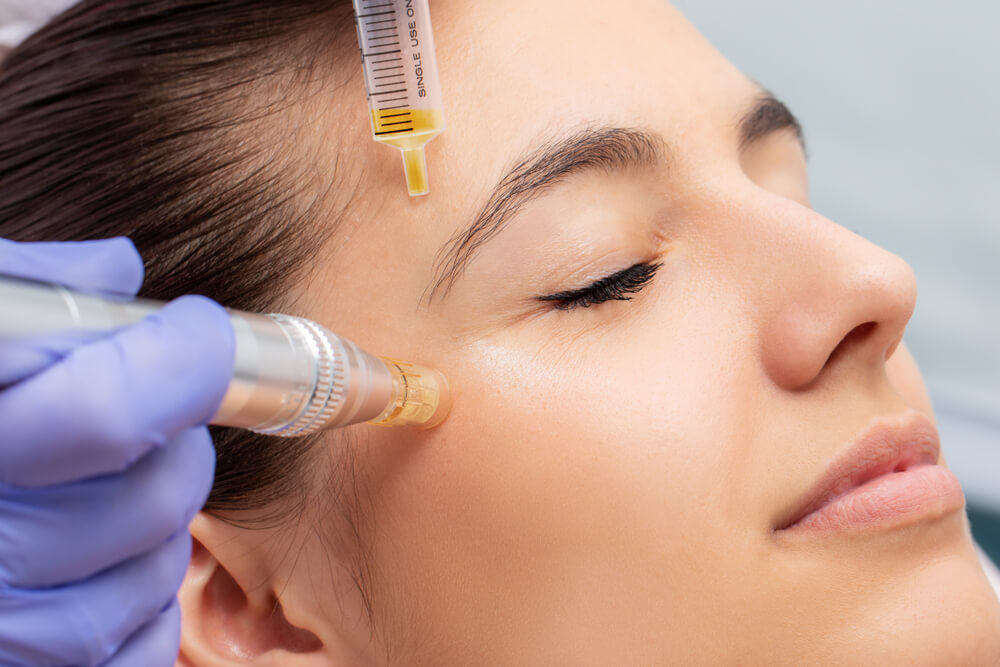 SkinPen microneedling is a minimally invasive treatment that is incredibly effective in addressing signs of aging and helps get rid of baggy, scarred, and unaesthetic skin.
If you are looking for a safe, convenient, and painless method to restore your skin glow with minimal recovery or downtime and lasting results, the trained professionals at Spa MD are available to take care of all your skincare needs. Contact us today.