Daily vitamin intake is essential for achieving healthy and desirable skin. In addition to all the wonderful skin benefits, these vital nutrients can also help manage various skin-related conditions, like eczema and acne, and even improve energy levels and mental clarity.
When you don't get sufficient minerals and vitamins in your diet, your skin will bear the burden. This is why it's so essential to understand vitamin deficiency and its impact on your life. Read on to explore all the reasons why you need a more nutrient-rich diet to avoid feeling the effects of a lack of vitamins.
Signs of Vitamin Deficiency
Your body needs plenty of vitamins and minerals to stay strong and healthy. Without these essential nutrients, you will not only feel fatigued, but your body will start to give you warning signs, like those listed below.
Cracked Lips or Mouth
While cold weather can cause cracked lips, it can also signify a vitamin B deficiency and dehydration. Thankfully, taking a complex vitamin B pill for a few days should help. Make sure you are also staying hydrated by regularly drinking water.
Tingling in Hands and Feet
While it could also be a sign of a neurological disorder, numbness in the hands and feet is usually a common sign of a vitamin B12 deficiency. It's usually accompanied by additional symptoms, such as swollen tongue, fatigue, loss of vision, and jaundice.
Night Blindness and Color Blindness
A lack of vitamin A can cause these symptoms. While you can take supplements to improve this, try aiming for a more nutritious meal with carrots, sweet potatoes, and dark leafy greens.
Muscle Cramps
Potassium deficiency, along with dehydration, often leads to muscle cramps. Add a banana or citrus fruit to your daily diet to help.
Bleeding Gums and Gingivitis
Without sufficient vitamin C, our body is more prone to bleeding gums and gingivitis. These issues will cause your gums to bleed easier. Eat your citrus fruits, tomatoes, spinach, broccoli, and berries to ease symptoms.
Eczema
This pesky skin condition causes red, itchy skin, but did you know that a lack of omega-3 fatty acid may be the culprit? Soothe your skin by eating more oily fish, like sardines, mackerel, or salmon.
While adding a vitamin supplement to your diet will help, the best way to ensure you get enough vitamins is by eating a well-rounded, whole-food diet.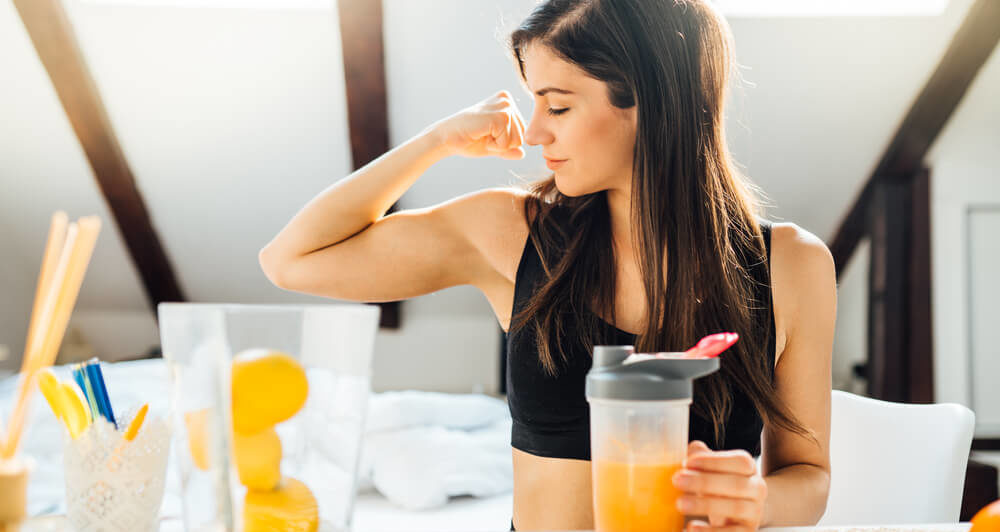 Boost Your Vitamin Intake
There are many vitamins and minerals that are essential to maintaining a healthy body and mind. Without adequate daily access to these nutrients, you will start to notice significant warning signs, ranging from fatigue to scaly skin and a tendency to burn faster in the sun. To avoid these potentially harmful outcomes, try to incorporate the following vitamins into your daily intake:
Vitamin A
Vitamin A is an enriching antioxidant that has two main types: retinoids and carotenoids. Since skin is a retinoid-responsive organ, it loves both vitamin A-rich foods and retinoid serums. When you regularly consume or apply it, it gives your skin photoprotective properties. These will help prevent dryness and promote new skin cell production.
Carrots, pumpkins, sweet potatoes, and assorted vegetables are excellent sources of this nutrient and a great way to support not only your skin but also your eyes and immunes system too.
Vitamin C
Vitamin C has numerous skin benefits. This top choice vitamin is excellent for protecting against skin aggressors, combating signs of aging, and brightening skin's complexion. Unlike other nutrients, it isn't' produced by the body and therefore needs to be added through supplements or foods.
This is one of the most important antioxidants that the body need's replenished because it promotes collagen production, reduces fine lines, and helps protect against free radicals from UV exposure. Some of the best sources of this vitamin are citrus fruits, parsley, broccoli, and peppers.
Vitamin D
While the sun is a great way to get sufficient amounts of vitamin D, it can also lead to damaged or aging skin without proper protection. Excessive sun exposure contributes to fine lines, pigmentation, and premature signs of aging. Therefore, if you are going outside to get vitamin D, apply sunscreen regularly, even during the winter, to protect against sun damage.
Other great sources of vitamin D include eggs, fortified breakfast foods, milk, oily fish, fortified milk, and shitake mushrooms.
Vitamin E
Vitamin E is wonderful recovering vitamin that has many anti-inflammatory properties which support the immune system and reduce UV skin damage. While adding a skin-nourishing vitamin E serum can help prevent and heal scarring, it also has anti-aging properties.
So whether you decide to eat more vitamin E-rich foods or apply a topical serum, you can reap the benefits of this powerful nutrient. Incorporate more broccoli, nuts and seeds, and seafood into your daily meals to help.
Additional Necessary Nutrients
A vitamin-rich, skin-loving diet isn't complete without added nutritional supplements. To keep your skin supple and hydrated, make sure to include omega-3 fatty acids, antioxidants, proteins, and probiotics. These can be found in healthy foods, like leafy greens, seafood, beans, yogurt, and many fruits and veggies.
While it may seem cliche, you will truly see a difference in not only your skin but in your energy levels and mental clarity. For this reason, eating a well-balanced and highly nutrient-filled diet is essential to all aspects of your life. Click here to see more examples of foods that are good for your skin.
Avoid Vitamin Deficiency for Gorgeous, Healthy Skin
There is no time like the present to start incorporating more beneficial vitamins into your diet through nutritious foods and supplements. These skin-loving nutrients will help prevent sun damage, promote collagen and cell turnover while also fueling your mind and body. If you're looking for extra help, consider adding a vitamin-enriched serum to your regimen.
Understanding vitamin deficiency and its impact on your skin are essential to know what to do to avoid problems. Revamping your diet and adding quality serums is a great prevention method.
If you're worried about tired or sun-damaged skin, don't stress. There are plenty of revitalizing treatments available to combat visible signs of aging and refresh your skin. Take the leap and schedule a consultation with SpaMD today to see how we can help you get your glow back.